Next hybrid launch from Multitel
By Euan Youdale06 September 2018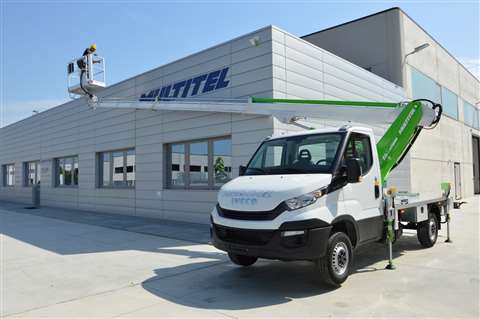 Multitel Pagliero has launched its latest hybrid-powered model.
The Multitel MT 162 Hybrid truck mount is powered by an on-board battery pack and is designed for inner city work.
The platform is based on a standard Multitel MT 162 EX, offering over 16m working height and 11.5m outreach. It is mounted either on an Iveco Daily 35 S 13 or a MB Sprinter chassis cab, staying well below the 3500kg weight limit, including with fuel and driver. The unit is powered by a conventional engine while traveling to site, although a second alternator on the vehicle engine ensures the batteries to power the platform are fully charged.
Once at the work site the platform can be deployed on its outriggers using either the vehicle PTO system or the on-board batteries. Thereafter the platform can give a full day work powered by the batteries. The batteries power an electric motor, which, in turn, power a hydraulic pump to drive the platform. As the vehicle moves from one job site to another the batteries are automatically re-charged by the second alternator with the main alternator charging the vehicle battery, and supplying vehicle lights and standard vehicle features.
The MT 162 Hybrid, which offers a normal day's work on a single charge, is usually charged overnight, although the batteries can be fully charged from empty in less than four hours. Multitel said it expect to add new models to its Eco Hybrid range.
The MT 162 Hybrid will be shown in Hohenroda at Platformer's Days on September 14 and 15.