NFT invests in vast new facility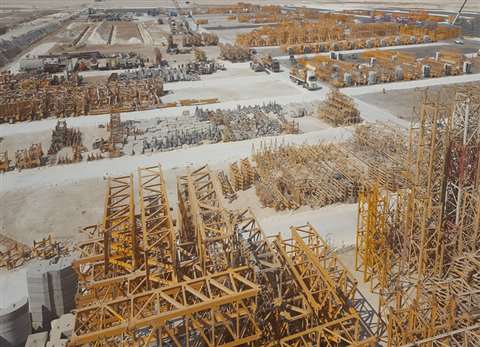 Leading international tower crane supplier NFT has a new facility to house its rental fleet of more than 1,800 tower cranes.
The new site in Abu Dhabi has crane storage, rebuild facilities, spare parts warehousing and offices. It is a 300,000 square metre complex at Al Dhafra, just off the Ghweifat International Highway, about 50 km from the centre of Abu Dhabi. The two existing yards in the UAE at Al Mafraq and Sweihan will be replaced by this new one. NFT will also move its Al Mina headquarters with 600 employees. In addition to the tower cranes, there are 500 hoists, and 35,000 spare parts on stock.
Plans at the time of writing were to have about 2 percent of the total site area under roof. This included 960 square metres on two floors for the main headquarters building, 1,800 sq.m for the main warehouse and 300 sq.m for spare parts. Construction will take place over the next two years.
Nabil Al Zahlawi, NFT chief executive officer, said, "After extensive and careful research, the plot of land in Al-Dhafra was selected not only as the base for our UAE operations, but for our worldwide activities too." The new yard "will enable us to increase stock, maintain the quality of new equipment and recondition used cranes to near-new levels," Al Zahlawi continued.
Investment at the new yard includes two facilities for reconditioning cranes. One will be for welding and painting and the focus at the other will be mechanical and electrical work. New software and barcode technology will allow tracking of even the smallest components, NFT said.
Al Zahlawi continued, "In less than three months, more than 1,000 trailer truck trips completed the move from Mafraq to Dhafra, without any interruption of our ongoing export-import operations. Our day-to-day work was not compromised and the move from the 15,000 square metre Mafraq yard to Dhafra was completed."
Alongside the announcement of its new facility NFT celebrated 30 years of partnership with tower crane manufacturer Potain. It has the world's largest fleet of Potain tower cranes. Larry Weyers, executive vice president for tower cranes at Manitowoc, visited the new site and paid tribute to NFT's ongoing investment in its business and customers, "We have enjoyed seeing NFT progress over the past three decades and it is fantastic to be here celebrating 30 years of co-operation."
Weyers said, "NFT is one of the leading success stories among our Manitowoc distribution partners. The company works hard to deliver the latest Potain technology to its customers and is continually developing its support services. It's great to see this approach being rewarded so well and this impressive new facility will act as a great foundation for future growth," Weyers continued.