Niche MEWPs
By Lindsey Anderson28 August 2020
From explosion-proof booms to omni-directional scissors, the specialty access market offers a plethora of solutions to combat any challenge at hand.
Take, for instance, Bailey Specialty Cranes & Aerials, an engineering and manufacturing company in Wisconsin that focuses on specialty lifting products for niche industries.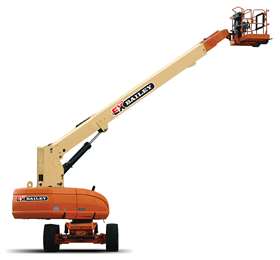 Since 2002, Bailey has developed explosion-proof mobile elevating work platforms (MEWPs.) The company produces more than 30 explosion-proof (EX) models, including articulated booms, telescopics, vertical booms and scissor lifts.
EX-designated equipment is required when work is being performed around shock or fire hazards. Many units are utilized in the aircraft industry for painting or maintenance. Recently, Bailey's EX technology was updated across its line of booms and scissors. EX booms now include enhanced spark protection, anti-spark wheel covers, electric joysticks, enhanced motor management systems and required metal shielded cabling.
Bailey's EX scissor lifts also feature the above updates, along with a platform battery condition indicator, circuit breakers in place of glass fuses and easier-to-access battery and control systems. All of Bailey's MEWPs are ANSI A92.20 certified.
Specialized MEWP focus
Indiana-based Lift-A-Loft is another designer and manufacturer of custom access products. Founded in the 1940s, the company originally manufactured truck-mounted vertical lifts to service streetlights. Today, Lift-A-Loft produces equipment for airline support, hazardous applications, aerospace support and industrial support, to name a few.
For the aircraft maintenance industry, Lift-A-Loft offers scissor lifts and truck-mounted units designed to meet specific needs within the airline industry. From high-reach aircraft maintenance lifts to high-speed tow vehicles, cabin service and catering trucks, each of the company's units has a specific design purpose to improve the safety and efficiency of airline ramp service and aircraft maintenance. Lift-A-Loft has been assisting airlines for over 50 years. It also has a long history with the aerospace industry, which regularly faces accessibility challenges due to large objects with unique curvatures such as rockets and satellites.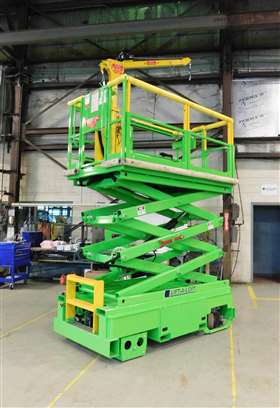 "It can be difficult in some operations to safely put workers and tools in the best positions to get the job done," the company says. "When dealing with multi-million-dollar products, these customers depend on us to provide the lift equipment solutions they need."
Lift-A-Loft has four series of scissor lifts dedicated to aerospace: SP – Series, MP – Series, SPX32 and MSP – Series. The units feature working heights between 15 and 31 feet and platform capacities up to 3,000 pounds.
Above the water
Bridge inspection is a demanding job, requiring highly trained technicians and engineers to safely maneuver specialized equipment into position in order to complete hands-on inspection and maintenance work. In order to accomplish this task, the right equipment is essential. Aspen Aerials, a Time Manufacturing Company, designs, manufactures and assembles a complete line of bridge inspection vehicles at its factory in Duluth, MN.
The company produces seven different models of bridge-inspection units, from the lightweight Aspen B-32 to the mammoth Aspen A-75.
The Aspen A-75 is a long-reaching bridge inspection unit with a horizontal under-bridge reach of 75 feet and vertical reach of 53 feet. The unit's platform can hold up to 700 pounds and the machine is fitted with stabilizing systems that allow operators to move the truck while the platform is deployed. None of Aspen's units require outriggers, which the company says is because outriggers impede the flow of vehicle and pedestrian traffic.
"Outriggers can create a lot of pressure and can sometimes damage the deck of a bridge," the company says. "Another advantage of not requiring outriggers is that the truck can move while the boom is deployed, which creates incredible efficiency for the bridge inspection team."
On the other end of the spectrum is the company's Aspen B-32, which was built to be used for access to bridges with weight restrictions. The B-32 features a horizontal under-bridge reach of 31.5 feet, a vertical reach down of 33 feet and a vertical reach up of 33.83 feet. The unit weighs between 25,000-30,000 pounds and its platform can hold up to 450 pounds. The B-32's design allows personnel to operate above ground level, even when not operating on a bridge.
Aspen Aerials also offers 180-degree rotating platforms as standard it's A-62, A-62T and A-75 models. The Aspen A-62, A-62T and A-75 also have the capability of providing inspectors with up to 16-feet of vertical working reach through the use of its telescopic fourth boom section. The fully hydraulic feature will enable users to get up and behind the deepest girders for a close-up inspection.
The company also can fit certain models with fully interchangeable platforms.
Under and over bridge inspection units
Anderson UnderBridge manufactures and assembles bridge-inspection platforms in York, SC. The company offers four models – the HP35, HPT38, HPT43 and HPT66. Each unit features 180-degrees of platform rotation, 15-minute deployment from park to project, single-lane traffic requirement, dual side deployment, deck-to-platform communications system and hydrostatic, self-propelled drive.
On the smaller end of the product lineup, the company's HP35 trailer-mounted under-bridge access unit can service more than 1,000 square feet of under-bridge area with one deck placement. It features a maximum drop depth of 17 feet, 5 inches and platform extension of 35 feet.
The HP35 is powered by an 18 hp V-twin gas engine, and the unit includes the company's patented Tower Separation System (TSS), allowing access across sidewalks and railings.
But if more reach is needed, the HTP66 will get users to where they need to go. The 66-foot, truck-mounted platform can drop 21 feet and cover 4,100 square-feet of under-bridge area. The platform can hold 1,400 pounds and meets all ANSI A92.20 requirements.
Industry solutions
Since 1974, Bridge Masters, Inc. has served the utility construction industry by specializing in bridge utility attachment and repair. The company has a fleet of Bridgewalkers, Hydra Platforms, Paxton-Mitchell Snoopers and UBIT-under bridge inspection trucks.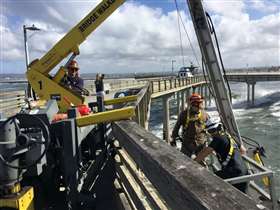 The company's own line of Bridgewalker inspection units features two models – Bridgewalker Type I and Bridgewalker Type II.
The Bridgewalker Type I is designed to operate in tight spaces where other similar equipment is not able. The company says it is the perfect solution for utility or inspection projects where space is limited. It can be used on a sidewalk and does not impact the flow of traffic due to its 3-foot-wide space needed to operate. Depending on the situation, it can be operated from a trailer or as a stand-alone. It features a 600-pound basket capacity and is able to hold two people. The ladder length and configuration are adjustable to meet the needs of a wide array of bridges and work situations.
Recently, Bridge Masters was called upon by an engineering firm that needed to conduct a structural inspection of a pier. The firm could not access the underside of the pier from water level, and because of the narrowness of the structure, it was impossible to use a typical lift. Also, the pier needed to stay open for visitors while the inspection was occurring.
Bridge Masters suggested its Bridgewalker Type I unit to the firm, which provided safe access to the underside of the structure all while keeping the pier open. n