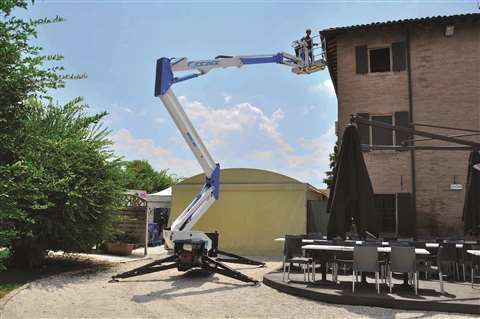 Manufacturers are targeting rental companies and promoting Lithium as the tracked platform sector promises to grow its market share. Euan Youdale reports.
The tracked platform sector is undoubtedly a niche sector of the aerial work platform market, but it holds a great deal of potential thanks to advances in technology and a growing realisation of its attributes from users.
Changing attitudes
Profit makers
Lithium future
Continuous relationship
Best of Benelux
HDW, part of the TVH Group, is the distributor for Terex AWP and Tuepen in the Benelux region and the whole of Eastern Europe. It distributes diesel-powered Genie Trax telescopic booms, the latest being the S-45 Trax, a pair of which have recently been delivered to HDW.
The company says thanks to its patented 'four-point' Trax track drive system, the machine offers improved terrainability and reduced damage to sensitive ground surfaces. It has a lift height of 14.2 m, a vertical reach of 11.2 m and a gross weight of 7927 kg. The oscillating axles are also patented, and allow the tracks to maintain contact with the ground on uneven and undulating surfaces to retain maximum power and torque.
According to HDW's Remko Jonkergouw the Netherlands is ideally suited to this type of equipment, as well as other types of tracked platform, because of its relatively weak ground conditions. "Some 50% of the ground is below sea level and used to be under the sea."This means that tracked platforms make up about 10% of the AWP population in the Netherlands, compared to the 3% worldwide average. Mr Jonkergouw says 80% of tracked platforms are used inside, but feels the features of the outdoor-suited Genie Trax will have a serious impact on that remaining 20%.
Talking about the tracked platform market in general, Mr Jonkergouw adds, "Eastern Europe is an upcoming market, but generally still in its infancy. Poland and Czech Republic are way ahead, but if you look at Romania, Moldavia or Slovakia, the idea of renting machines is still developing. Even using tracked machines is not so popular yet. We are succeeding but the penetration rate is very low compared to other countries. They need to learn rental first, and tracked machines will follow later. We think in 3-5 years Eastern Europe will be at the same level as Western European countries."