Niche opportunities in Chinese rental
By Thomas Allen29 October 2019
Chinese equipment distributor Global Machinery Hub (GMH) is seizing the opportunity to supply middle-tier Chinese rental companies with niche, electric-powered machines.
Since large – often state-backed – rental companies in China have started buying up large quantities of scissor lifts and boom lifts, the rental rates for these popular machine types has been dropping.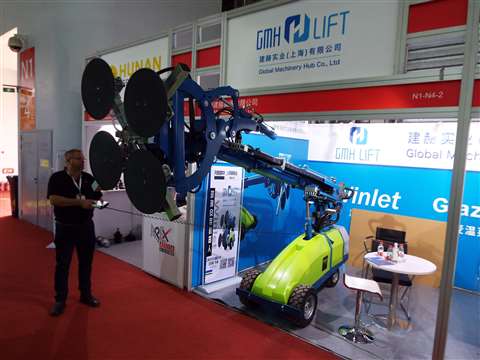 In response to the downward pressure on prices, medium-sized rental companies are turning to niche products for which higher rates can be charged.
"This is why we are seeing interest from rental companies in our glazing robots," said Sylvia Wang, Managing Director of GMH, speaking to IRN at the recent APEX Asia exhibition in Shanghai, China.
The company had previously been exporting machines from China, but in light of this new domestic opportunity it started a partnership with Danish manufacturer GMV Handling in August 2019. GMH has started to distribute GMV's Winlet glazing robot, which is fully electric.
Wang said, "Rental companies can charge higher rates on these niche products – several times higher than other machine types like access equipment. For instance, the daily rate for a glazing machine will be about the same as the monthly rate for a scissor lift."
Although similar products are offered by Chinese manufacturers, Wang said they lack important qualities that the Winlet model has, such as easy operation, reliability and fine adjustment.
Wang also highlighted the growing importance of sustainability, saying, "We are looking to serve the increasing need for electric equipment."
Other niche products that GMH is expecting to start importing in the next couple of months include an electric boom lift from JLG and an electric pick-and-carry crane from Italian manufacturer JMG.