Niftylift Land Rover mount order
By Euan Youdale28 February 2013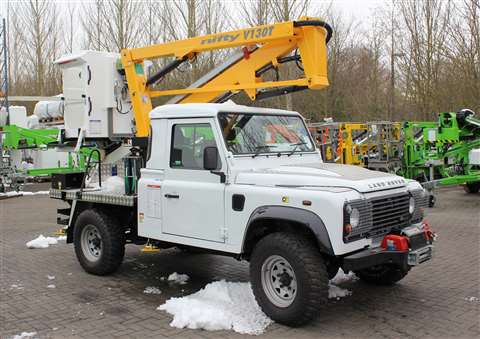 Niftylift has received an order for 23 units of its V130T telescopic boom sets, mounted on free-issue Land Rover 110 chassis.
According to the UK-based company, they were selected for their 3.5 tonnes GVW and 200 kg payload. The customer, which wishes to remain anonymous, also ordered a dedicated stainless steel toolbox and four polycarbonate outrigger spreader plates for each unit.

"Niftylift has continued production of the V130T since taking back the in-house manufacturing of the units," said a company spokesman, "The timely completion of each of the recent scheduled deliveries has had to work around vehicle availabilities, winch installations and vehicle additions before the platforms can then be mounted at the Milton Keynes production facility."
The V130T is available on a range of chassis options, available with a separate CE approval for that type.
Steve Beckwith, Niftylift operations director said, added, "The timing of the recent order has been ideal for us and we very much appreciate the continued support of customers."