Niftylift launches 2nd generation hybrid
By Euan Youdale21 August 2020
Niftylift has launched its second-generation hybrid system, named Gen2 Hybrid.
UK-based Niftylift was the first MEWP manufacturer to offer a true parallel-hybrid powertrain, when it was introduced on the HR21 4x2 in 2007. The new Gen2 Hybrid system is powered by an EU Stage V diesel engine, which is automatically boosted by an electric motor when extra power is needed. This combination enables smaller engines to be used, than would otherwise be required, while still maintaining power and performance, said the company.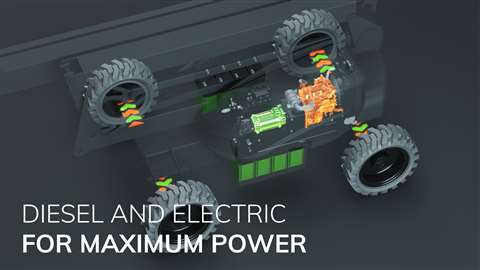 Niftylift says its smaller, power-optimised hybrid engines are more efficient than larger diesel-only alternatives and use up to 50% less fuel. They also produce fewer emissions, thereby minimising their environmental impact and they do not require exhaust filtration add-ons.
Gen2 Hybrid includes an electric-only mode for zero-emission operation. By switching off the diesel engine, the machine will automatically run using only its electric motor.
"This makes it perfect for indoor use as well as tasks where noise or emissions are restricted and greatly increases the number of locations in which the machine can operate," said Niftylift.
The system's maintenance-free AGM batteries can be recharged from an AC, mains, power source, or by its on-board Diesel-Ren feature. This feature can charge the batteries twice as fast as AC, using any surplus power produced by the diesel engine during operation. This means that a Gen2 Hybrid can be potentially run 24 hours-a-day, using the electric motor to work quietly at night and then re-charging during the day, while running on diesel.
Gen2 Hybrid also incorporates full battery monitoring and protection. It monitors battery voltage, current and temperature to prevent the batteries from being excessively discharged as well as optimising the charging profile. This protects the batteries from operational damage and ensures that they remain healthy for longer, reducing maintenance costs and increasing battery lifespan.
"It is the most advanced parallel-hybrid powertrain that Niftylift has ever produced and we believe represents the future for Diesel-powered MEWPs," said Simon Maher, marketing manager at Niftylift.