No rental too small: How Sarens serves clients with rentals of all sizes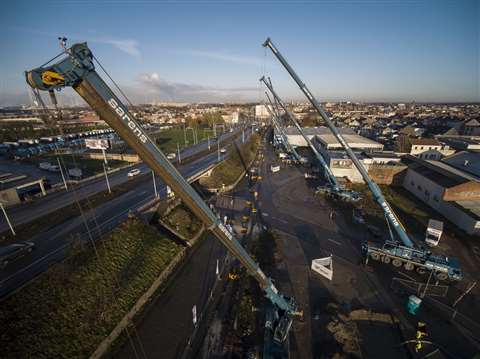 Sarens may be known for its massive cranes and high-profile projects, but did you know that small rentals account for more than half of its global business revenues?
Sarens is proud to serve clients with small local projects, whether it's lifting a container off a trailer or placing a star atop a church steeple. In fact, clients have turned to Sarens for everything from moving palettes off rooftops to replacing church bells.
From fishing boats to church bells, Sarens takes pride in the smallest projects
Sarens provides small, easily-moveable solutions with enormous possibilities. For example, Sarens provided the Terex TC 2800-1 crane that placed this fishing trawler into port along the historic town of Whitby in the UK. In this instance, the Sarens crane could do the type of job that a typical crane sitting in a fixed position at port wouldn't have been able to handle.
And when the municipality of Puurs, Belgium, celebrated the 725th anniversary of its foundation, it was a Sarens crane that lifted a 4.5-tonne carillon into its bell tower. The 70-tonne telescopic mobile crane safely guided the carillon, composed of 50 different bells, into its proud new position.
For rent: everything from small cranes to the world's largest lifting machines
Sarens is the only company in the world that a client can approach for everything from a small crane up to the world's largest lifting machine. Clients can even request to rent equipment for as little as a few hours at a time! With so many options, the possibilities are endless:
Hourly rentals to multi-year projects. Clients choose Sarens for a variety of projects, whether that's a small crane hired for 2-3 hours or several major pieces of equipment hired weekly, monthly, yearly, or even for many years at a time.
A network of rental depots around the globe. With 1,500 cranes worldwide, Sarens is local everywhere. Our global network of rental depots provide international service paired with local knowledge, and can provide rental equipment immediately or source it directly from the global fleet.
Personalised service. When a client requests rental equipment, a technically-qualified professional first visits the work site to evaluate their needs, from technical requirements to desired crane capacity. Sarens always consults with clients to ensure that the right equipment is rented for the job.
The highest quality and safety standards. Clients who require a high level of quality and safety choose Sarens. Whenever there are special safety requirements, pollution regulations, and levels of service required, Sarens is there.
Looking for your next equipment rental?
Sarens is just a phone call away. Our rental locations worldwide include:
AFRICA
Algeria
Botswana
Egypt
Ivory Coast
Mauritius
Morocco
Mozambique
Namibia
Nigeria
Tunisia
Republic of the Congo
South Africa
Tanzania
Uganda
Zambia
ASIA
Bangladesh
India
Indonesia
Korea
Malaysia
Philippines
Thailand
Vietnam
EUROPE
Belarus
Belgium
Czech Republic
France
Hungary
Ireland
Kazakhstan
Lithuania
Netherlands
Norway
Poland
Russia
Sweden
Turkey
Ukraine
United Kingdom
MIDDLE EAST
Bahrain
Iraq
Oman
Qatar
Saudi Arabia
UAE
NORTH AMERICA
OCEANIA
SOUTH AMERICA & CENTRAL AMERICA
Bolivia
Brasil
Chile
Colombia
Ecuador
Panama
Peru
Venezuela