Non-compliance illustrated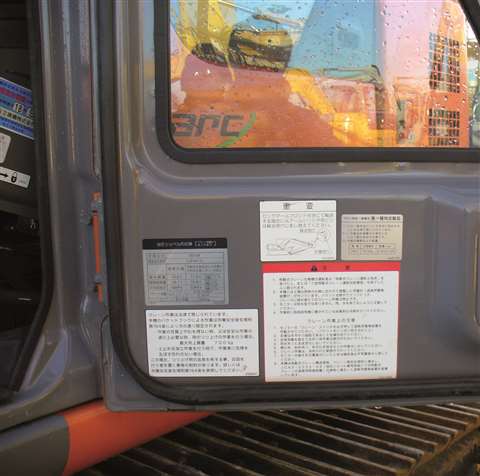 Despite their illegality and failure to conform to EU laws, non-compliant construction machines are still being sold and used in Europe. To help contractors avoid buying such equipment, CECE presents a brief guide to the main danger signs.
Equipment imported from unorthodox/unofficial channels through China, Korea and Japan may be cheap to buy, but while often bearing well-known brand names, these machines have not been designed or manufactured for the EU market. This means they do not meet the strict safety or environmental requirements and do not bear a legitimately affixed CE mark.
Construction equipment used in Europe must comply with a range of important safety and environmental laws. These have been developed over many years to ensure machines provide a safe working environment for operators and do not pose a hazard to other construction workers or the general public.
The main directives with which construction equipment must comply relate to machinery safety (98/37/EC), noise (2000/14/EC amended by 2005/88/EC), engine exhaust emissions (97/68EC amended by 2004/26/EC) and electromagnetic compatibility (2004/108/EC).
Besides it being illegal to use non-compliant machines in Europe, there are other factors that weigh against the perceived savings of buying such equipment. Rather than being a bargain, a purchase like this is probably going to be an expensive mistake.
For example, such equipment is not likely to come with a warranty or be supported by local dealers. Sourcing spare parts is likely to be difficult, as manufacturers often use different component suppliers in different parts of the world. It may also be difficult to insure non-compliant machines, and there could also be massive liability issues if such equipment is involved in an accident.
At a very basic level, non-compliant machines are unlikely to come with a manual, or if they do, it is likely to be in the original Asian language. This also applies to safety/warning decals, which, as the pictures show, are usually incomprehensible to Europeans.
Telltale signs
Contractors or rental companies thinking about buying used machines should therefore be on the lookout for non-compliant equipment. Fortunately there are a number of telltale signs that should clearly indicate if a machine conforms to European laws. These pictures illustrate some of the most common ones.
For more information on the issues and dangers of non-compliant machines, see the CECE page in the November 2007 issue of CE.