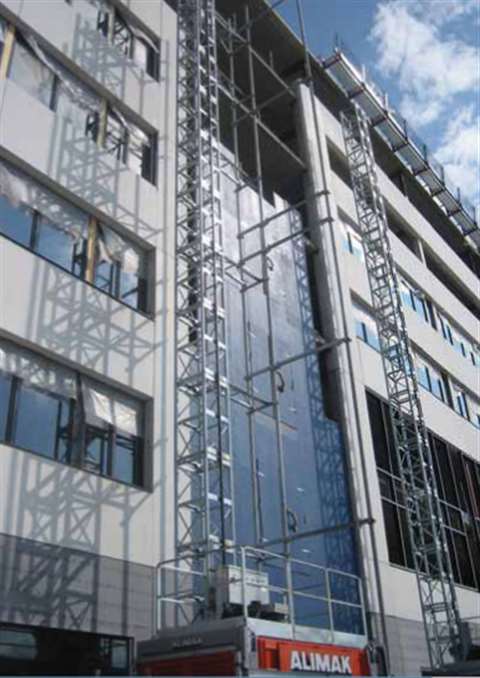 Stable labour pools and busy, high–tech industries have driven up demand for critical resources in the Nordic region. "The biggest problem…is lack of skilled labour – everywhere," says Erkki Hokkinen, managing director of access equipment manufacturer Dinolift of Finland.
One consequence is growing use of access equipment to help wring productivity out of scarce and highly paid workers. The access market is "good" to "very good" to "booming", depending of whom you ask.
Kari Kallio, chief executive officer of Ramirent, has seen growth of 20% in its Nordic markets and tells AI, "The market is growing in all types of construction. Customers are using more and more types of access equipment, instead of scaffolding." One driver of increased use is that, "They want more rapid processes in construction," he says, citing the desire to take advantage of relatively short summers.
Rental companies, themselves, seem to stimulate demand, too. Magnus Rosen, Cramo's managing director for Scandinavia, told AI, "From Cramo's perspective, it is good thing that Ramirent exists. Customers feel they have a choice. If one company doesn't meet their needs, they have another to turn to."
Vesa Valtonen, aerial platform sales manager for Rotator in Finland – which sells Nostolift and JLG machines – agrees; "Ramirent and Cramo have been close to the markets and traditionally have done good access business. They have brought to those markets [knowledge of] how to do the business."
One thing rental companies have done is increase their fleets and put depots closer to customers. As summed up by Mr Kallio, they have "made it easier to rent." Mr Rosen agrees; "We have seen more availability, more use."
He adds that; "Rental companies are doing more planning, making a little more effort to promote access equipment. They talk to customers about safety, legislation, efficiency."
Mr Rosen also sees access equipment demand driven by movements of labour into the region. "Stop jobs" – overhauls of paper, mining, and refining facilities, which are large and 'schedule–sensitive' – can require up to 1500 temporary workers. Although foreign companies import the plant equipment and labour, they don't bring needed access equipment.
Hoists, too
Mats Hedlund, sales and marketing manager of hoist manufacturer Alimak AB in Sweden (part of the Alimak Hek group), has seen 10 to 20% growth in demand for its hoists over the past three years, partly from such projects. "Today we go after new build, but we also go after work in existing plants – expansions, overhauls. We don't need to reinvent the wheel."
Although booming regional and global business activities seem likely to drive short–term demand, Mr Valtonen expects safety at low working height will also become a big factor throughout the region. He sees the whole region following a trend in the UK, Norway, and Holland; "It will be a really big business for rental companies in a few years. There will be a need for thousands of machines for years, but key is legislation to make it happen."
In response to rising demand, owners have been expanding fleets. Cramo, which has seen rental activity rise 20 to 25% in the last two years, is adding 600 units this year.
Finnish rental company Pekkaniska Group added about 4500 machines during 2004 to 2007, about 4050 of those from Haulotte in France. It has confirmed orders for next year for about 1200 units, said Mr Pekka Niska, chairman.
Equipment demand may be high, but expanding fleets evidently are moderating rental rate rises. Says Mr Niska; "Most likely the average rental prices will decrease, while so far the nature of the business has been more distribution business than aggressive selling."
Cramo's Mr Rosén holds the same opinion; "Rates are more or less the same. Competition is now tougher, prices are going up slowly. More utilisation is what gives the economic advantage. Utilisation is up; some areas have shortages."
He says Cramo's utilisation is currently about 60% [measured against 365 days], which is a "good level". At 70%, we feel it is a shortage situation."
Changing fleets
As to equipment types, Mr Niska says that, "The most popular rental items are scissor lifts, currently all size and model categories."
Torbin Lorentsen, who leads the sales activities in Scandinavia of Danish trailer– and crawlermounted platforms manufacturer Omme Lift, sees "A growing importance for crawlers, which are relatively new to the region, and finding applications in building maintenance."
Rotator's Mr Valtonen observes that, "A few rental companies are buying self–propelled machines and bigger machines than in the past. Rental companies didn't invest in this type earlier. They are now."
Cramo's Mr Rosén says it is "…buying a lot of big booms because of big infrastructure projects. Also, we're buying a lot of 6 m machines, a lot of smaller scissors."
With so much investment going on, it is inevitable that fleet ages are coming down. Even so, they remain high from an international perspective. Vesa Valtonen says, "…some rental companies are modernizing their fleets; across the region fleet ages are about 10 years. They are relatively high, particularly compared to the US, which is about four years. Some say their age is five years. In all, I say the age is maybe eight."
Raising that average is Ramirent, which is buying and keeping "pan–European equipment" from Western European and US suppliers. Mr Kallio told AI; "Our strategy is to use the equipment to the 'bitter end".
Pekkaniska, which is purchasing up to 2000 platforms annually, seems to be at the other end of the spectrum. "Our growth objective is to increase the number of the total platform fleet by 1000 units annually." Says Mr Niska, "We have approximately 6000 platforms in our fleet, with the average age of slightly less than three years. The average age of the fleet will most likely still keep decreasing."
Varied, too, is the view of the region by Per Torp, general manager of Denmark's Time Export, which makes access equipment for the utility and rental industries. He thinks the region is "a little different from country to country."
Big issues
In Norway, the market emphasis is on "low–tech and cheap. Years before, it was the opposite, more sophisticated. Price now is such a big issue for street lighting and other maintenance activities," he says. "Equipment for this market can be old–fashioned. Not for all companies, but it is a factor for many.
Sweden is the opposite, and safety and the environment are big issues. "Carriers need to be driveable from the basket because of one–man operation needs. The labour shortage is a factor in the utilities sector, too, and one–man operation capability is particularly important in Sweden."
Denmark is "booming", he says. "Energy companies are asking for specially–equipped and specially–designed machines to exactly fit their needs." Van–mounts are selling well there, he continues, as well as in Norway and Sweden
The business is changing as well. He is dealing with bigger companies as the sector consolidates; "Tenders are for five to ten units [compared to one or two in past years], and service contracts are for ten years."
Financing alternatives are also becoming more attractive, he says. "Power companies in Scandinavia have been slow adopting [financial alternatives], but they will do more long–term renting. We have done a few long–term rent deals, and are quoting more and more." He says companies are recognizing the benefit of "…getting a new one in five years, one that is up-to-date, the safest, and most effective."
His last point echoes the quality theme common across the region, and most users seem to expect to pay for good equipment. "In the Scandinavian countries, people look more at total costs over the lifetime," says Omme Lift's Mr Lorentsen.
Ramirent's Kari Kallio agrees; "When I talk with my customers, they say they don't think access equipment costs are so high. Labour costs in Scandinavia are high, and users are trying to reduce labour use. They have learned how to optimise and to increase efficiency. Access equipment is easy to access, easy to use, and safe."
That's about as good a summary of the access equipment market in the Nordic region that you can get.