November launch for Powerscreen crusher
By Leila Steed24 September 2019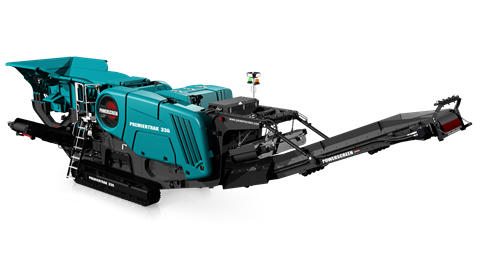 Crushing and screening manufacturer Powerscreen is preparing to launch its new Premiertrak 330 jaw crusher this November.
The new model incorporates a hydrostatic drive with reverse crush capacity, a wear-resistant feed hopper and a low engine speed, which is said to improve fuel consumption and lower noise emissions for work in urban areas.
Suitable for various applications including aggregate, recycling and mining, the crusher also comes with the company's remote monitoring and fleet management system; Powerscreen Pulse, which delivers telematics data to operators and owners via computer, tablet or smartphone.
Powerscreen, a Terex brand, said its Premiertrak 330 was set to dominate market and that the model's features allow for a faster set up time, provide longer lasting wear parts and offer easier crushing.
Neil Robinson, Powerscreen product manager, said: "The Premiertrak 330 has been designed to promote an easy and effective flow of material to minimise any potential build-up, therefore maximising uptime. Contributing to this is a two-piece grizzly feeder with the second section angled which allows a better material flow towards the chamber and prevents bridging. These are just some of the features that contribute to the astounding low cost per tonne performance of the Premiertrak 330."