Oakwood Demolition in site clearance works for HS2
United Kingdom-based company Oakwood Demolition has begun clearance works at Euston Station in London, as part of the High Speed 2 (HS2) rail line upgrade.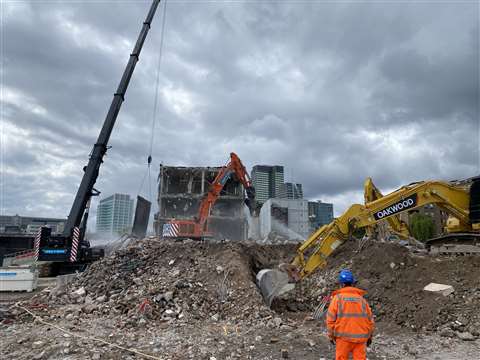 Part of the Oakwood Plant Group, the London-based firm provides demolition, excavation, decontamination and civil engineering services across the region.
It is currently performing preparation works to an area near Euston Station, which will accommodate an extension to the station's existing buildings.
To carry out levelling and road reinforcement works to the site, Oakwood is using a Miller PowerLatch coupler mounted on a Hitachi ZX670 crawler excavator.
The company chose the coupler specifically for the project, to help ensure the project was not delayed.
Katrina Christoforou, plant manager at Oakwood Demolition, said: "In our industry, the attachment is the job, and it is one of the most important parts to consider when bidding for business.
"The wrong choice can delay jobs and cost time and money. In addition, quality is key, as is minimal downtime and that's why we chose to specify Miller when it came to attachments for this job."
The hydraulic twinlocking quick coupler can be used with excavators in the 3.5 to 120 t range.
It is made from a high tensile steel and incorporates a patented automatic blocking system, which according to Miller "prevents the accidental release of an attachment".
The ABS feature also stops the attachment from dropping in the event of operator error or hydraulic failure.