OEM: Components for construction equipment
By Chris Sleight09 May 2008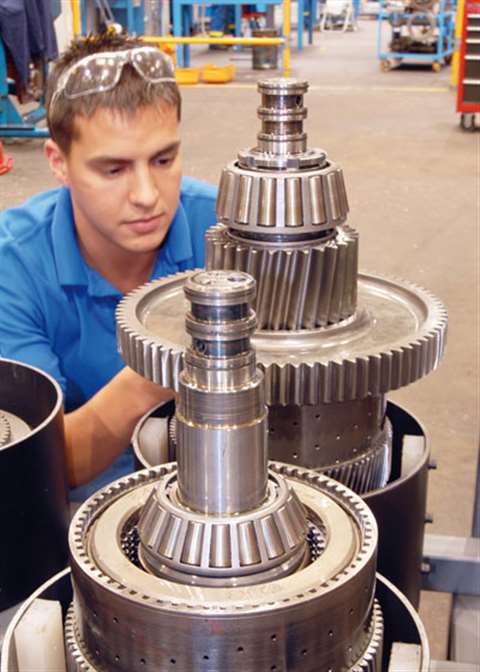 Building better construction machines means the components that go into them need to be improved all the time. Chris Sleight looks at the latest development in the sector and the challenges that lie ahead for components suppliers and OEMs alike.
The unprecedented boom in demand for construction equipment over the last five years has not been an easy situation for the industry to cope with. There have been shortages of almost every 'vital ingredient' for construction machine, from the basics like steel and tyres, to sophisticated components like engines and hydraulic systems.
While this situation seems to be easing due to increased manufacturing capacities around the world and the downturn in demand for equipment in the US, the difficulties of the last few years have focussed attention among original equipment manufacturers (OEMs) and their component suppliers on how to avoid such problems.
Better communication and forward planning is now a feature of the industry's supply chain, and this spirit of co-operation may have further benefits as OEMs strive to build better machines. There is a constant drive to increase maintenance and efficiency in construction equipment, and a big contributor to this is the efficiency and ease of use of individual components. OEMs are also under pressure to reduce noise and vibration from their machines, and again, the design of individual components can play a part.
The boom has had other implications too. Alfredo Gottardi, vice president of world wide marketing and sales for Dana's Off-Highway Products Group told CE, "The global construction boom and the need for raw materials to feed the construction pipeline are fuelling demand for larger vehicles with higher load capacities.
"Globalisation is increasing pressure on OEMs to work more closely with drivetrain suppliers that can deliver a full range of components to their manufacturing facilities spread around the world, and new fuel and vehicle technologies are challenging drivetrain component manufacturers to re-engineer their axle and transmission product offerings to keep pace."
A good example of this is the system Dana exhibited at the march ConEpxo exhibition in Las Vegas, a drivetrain system for 30 tonne class wheeled loaders. The system comprised a Spicer 53R300 front axle, and 43R183 rear axle combined with a TE 32 transmission rated at 360 to 530 hp (270 to 395 kW).
The transmission is a sophisticated model available as a three or four-speed powershift unit. It has helical gearing and the next generation of Dana's electronic control technology. Other features include auxiliary pump drives and the choice of long-drop or short-drop configurations.
The system's axles, the 53R300 and 43R183, feature internal fade- and maintenance-free liquid cooled brakes, and are available with Dana's Posi-Torq and Hydraloc limited slip differentials for improved traction.
Another interesting development in the transmissions sector is Poclain Hydraulics' AddiDrive CreepDrive system. This unit is designed to deal with the problem of machines that require a slow working speed, but a high travel speed when moving between jobs or parts of a site.
Poclain Hydraulics overcomes the obvious conflicts in this requirement with its CDM 170-050 motor, which is fitted in the drivetrain between the gearbox and differential. The motor provides both mechanical and hydrostatic drive options, which can be changed at the flick of a switch.
At high travel speeds, the mechanical drive is engaged, while at slower working speeds the electronically controlled hydrostatic drive ensures smooth and easy-to-control operation. The CDM 170-050 is rated for equipment up to 40 kW.
Remanufacturing
Another interesting trend in the industry is for the remanufacture of components. The concept is to refurbish parts before they fail or are irreparably worn to provide a 'good as new' product at the fraction of the cost of a brand new unit. The process of entails a unit being fully stripped to component level. All parts are then cleaned and inspected to factory standards, and any that need replacing are genuine parts to OEM standards.
This should save on energy, materials, time and labour, and also reduce lead times compared to the wait for a new transmission.
One of the companies pioneering this in the construction sector is ZF, and one of the further advantages it offers is that products can be modified with the latest updates as part of the remanufacturing process. New bearings and any product updates or improvements are also included in the remanufacturing programme. Units are reassembled to OEM standards and then fully load tested by ZF to ensure they work in accordance with factory specifications.
A further advantage is that when ZF receives a transmission for remanufacture, it can examine the log on the electronic transmission control unit (TCU) to gain valuable data about work cycles. If the transmission actually failed, this data can be used to identify the cause and help eliminate it, be it a design issue or a case of abuse by the operator.
Several of ZF's OEM customers are using the company's remanufacturing service, and ZF says the cost of remanufacturing a transmission is just a third to a half the cost of a new unit.
As well as rigorous factory testing, ZF offers an optional service check when the component is reinstalled in a machine. Issues such as optimising gear shifts are dealt with in this session, and the latest version of the TCU software can also be uploaded to ensure the remanufactured transmission works at its best.
Design challenges
The biggest challenge for OEMs, and perhaps the biggest issue the industry has ever face is the introduction of Stage IIIB (Tier 4 in the US) engine emissions laws, which come into force in a succession of steps, starting in 2011. The big issue to contend with is a reduction in particulate matter (PM).
The burden for finding a technical solution for this of course falls on engine manufacturers, and while few are prepared to be specific about their plans at this stage, it is clear that diesel particulate filters (DPFs) will be one of the technologies used.
In addition to these large and expensive 'cans' in the exhaust system to trap and burn-off soot particles, engines are likely to have bigger exhaust gas recirculation (EGR) packages, bigger turbochargers (or turbochargers on models that were naturally aspirated before) and bigger fans to keep everything cool.
Engine manufacturers may be supplying these packages, but it is the OEMs that will have to find ways of cramming it all into already crowded engine compartments.
Perkins product marketing manager Allister Dennis told CE, "It's all about packaging. The DPF and turbos will add width or height. It is quite a big challenge, and there are limited solutions."
Manufacturers like Perkins are already working closely with their OEM customers to address the issues that Stage IIIB is presenting. Designing new machines around these bigger and more complex engines is of course difficult, and OEMs also need to focus on issues such as safety.
One concern is that bigger engine packages will ultimately mean bulkier machines and poorer visibility for the operator. More involved servicing requirements is another concern, as is the fact that field engineers will have to become familiar with DPFs.
These should look after themselves, in that engine management systems should take care of the periodic regeneration - the burning-off of soot particles - without the operator having to intervene. However, in doing this the casing of the DPF could get extremely hot and present a hazard if an engineer is working in the engine compartment at the time or shortly after regeneration.
On the positive side, besides the environmental benefit of reducing emissions, the next generation of engines for the construction equipment industry could have other benefits. One of the few companies to be specific about its technical solution for Stage IIIB is Cummins, which unveiled the 16 litre version of its QSX engine at ConExpo.
This will use a particulate filter to reduce PM and will also employ cooled EGR to cut emissions of oxides of nitrogen (NOx), along with high pressure 'common rail' fuel injection system. According to Cummins' vice president for its Off-Highway Business, Ric Kleine, this could mean more productivity and lower fuel costs.
"While cooled EGR is primarily employed to reduce NOx emissions, we can also utilise this process to influence the combustion formula and realise fuel efficiency improvements. This will achieve up to +5% higher fuel efficiency for the Tier 4 (Stage IIIB) QSX compared to Tier s (Stage IIIA), depending on rating and duty cycle," he said.
Cummins is quick to point out that rather than buying-in new components like DPFs, it handles all of this in-house, which is why it describes the new QSX as having a "fully integrated air intake to exhaust after treatment system."
Mr Kleine said, "By making an early start with developing our Tier 4 emissions solution we have been able to optimise Cummins integrated technology and achieve higher power outputs and improve fuel efficiency. For equipment manufacturers our integrated system approach will offer more efficient packaging for and easier Tier 4 installation."
Electronic control
Whereas the current Stage IIIA regulations have seen some engines meet the requirements with mechanical control, most engine manufacturers say that electronic control systems will be a key ingredient in complying with Stage IIIB. In fact, electronic control in general in the equipment sector has reached levels of sophistication that were almost unthinkable just a few years ago.
A good example is the new RC36-20 BODAS controller from Rexroth. This 32-bit device has 125 input and output channels and a 150 MHz clock speed that allows it to cope with complicated applications such as load-limiting in cranes. It has four industry standard CAN interfaces and can be used as the central control unit on complex machines.
All this power comes in a small package - in plan the controller is about the size of an A4 sheet of paper - and the unit is also rugged. It has been tested to the computer industry's IP65 standard for resistance to shock, vibration, moisture, salt spray and electromagnetic radiation.
The BODAS unit can be programmed using the automotive industry's standard Key Word Protocol (KWP) 2000 standard, which makes it simple to configure and maintain. Software supporting BODAS is Windows-based.
In a similar vein, Sauer-Danfoss has added a larger, general purpose micro controller (the MC088-015-00000) to its PLUS+1 product family. This new 88-pin unit has 42 inputs, 32 outputs and two CAN ports.
Dan Ricklefs the company's product portfolio manager said, "Whether OEMs are designing small machines with short CAN-bus communication lines or have a very large clustering of input/output needs, the new 88-pin device provides maximum design flexibility with the potential to reduce overall installed costs."
The controller was designed with three new features that improve compatibility, power and control. The first is four inputs that can be configured to read signals in the 4 to 20 milliamp range, such as from pressure and temperature sensors. The second is six 6-amp digital outputs to directly control higher power devices, such as starter solenoids and incandescent lamps. Finally, there is 4 MB of on-board flash memory for logging everything from operational data to machine status.
"Consistent with other PLUS+1 family products, the new 88-pin micro controller is designed to withstand the harsh off-road environment. Micro controller technology is a critical element in helping OEMs to meet future machine productivity and efficiency needs. The PLUS+1 suite of products helps bring these features to market in a very time-effective manner," said Mr Ricklefs.
Mr Ricklefs' comments sum up very neatly what many component manufacturers are trying to achieve. Customers are demanding better and more fuel-efficient machines, and in order to deliver these, OEMs are having to source components that will help them achieve this aim.