Offshore energy fall for Boskalis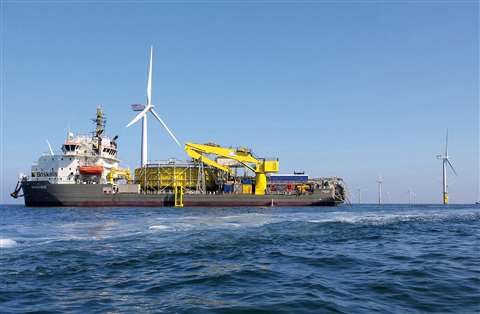 A sharp decline in the Offshore Energy division of Dutch dredging, offshore contracting and marine services company Royal Boskalis Westminster has been blamed for a lower overall result for 2018.
The company said this was in line with expectations as it reported a net operating profit of €83 million compared to a 2017 figure of €150 million.
It added, "Including an almost entirely non-cash extraordinary charge of €519 million, there was a net loss of €436 million."
Revenue rose 10% over the previous year to €2.57 billion, up from €2.34 billion.
EBITDA (earnings before interest, taxes, depreciation and amortization) in 2018 totalled €354 million, and the operating result was €119 million, both adjusted for extraordinary charges. In 2017, EBITDA was €437 million and EBIT €185 million.
Boskalis said that the Offshore Energy division had posted an operating loss for the first half of 2018. In light of the poor prospects, the company said, the decision had been taken in the first half of the year to end the low-end transport activities within this division.
The company added that market conditions had also deteriorated for the harbour towage activities, mainly as a result of consolidation among the large container shipping companies. Together these developments resulted in an extraordinary charge of €519 million, almost entirely non-cash and consisting primarily of impairments of goodwill and vessels.
Its Dredging & Inland Infra division was said to have had a relatively stable year.
With a number of large works in progress in countries including India and Oman, supplemented by a large number of medium-sized projects, both revenue and the result rose by over 10%.
Use of both the hopper fleet and the cutter fleet was slightly higher than in the previous year. The margin was stable compared to 2017, said Boskalis, with "the usual combination of results" from ongoing works and from the financial settlement of projects completed earlier.
The order book – excluding its share in the order book of joint ventures and associated companies – increased by 23% to €4.29 billion, compared to the end of 2017 when it stood at €3.50 billion.
CEO Peter Berdowski said that in the Dredging division, the performance was in line with expectations with a slightly higher fleet usage rate, and an increase in both revenue and the result.
"In addition we managed to achieve a substantial increase in contracted work, boosting the order book at Dredging by more than 20% to over €3 billion.
"At Offshore Energy, there was a positive contribution primarily from the contracting activities and Gardline's survey services."
He added, "Looking ahead, we see cautious signs of recovery in the markets relevant to us in due course, although we are still a long way away from the exuberant market climate of three to five years ago.
"In the short term, we will continue to maintain a disciplined and selective focus on opportunities to strengthen our position, in anticipation of recovery further down the line."
The company said that the long-term macro trends that underpinned the Boskalis business model were structural economic growth and increasing prosperity of the global population, along with the associated growth in global trade and growing demand for raw materials and energy.
It said the effects of global warming, especially extreme weather conditions, also created business opportunities for Boskalis because of the growing need for coastal defence and riverbank protection.
Also, the growing demand for sustainable energy in the form of offshore wind farms was said to offer ample opportunities for its transport and installation services.
However, it said that while the long-term trends remained positive, the opportunities and projects were not manifesting themselves across the board in the short term.
The market picture for 2019, it said, was not fundamentally different from 2018. With a limited recovery in the prospective volume of work, prices and margins would remain under pressure, it said.