Offshore lifting: Buoyant business
By Christian Shelton04 December 2017
Wind farm construction, oil platform decommissioning, and large-scale infrastructure projects are continuing to drive the offshore lifting industry. CHRISTIAN SHELTON reports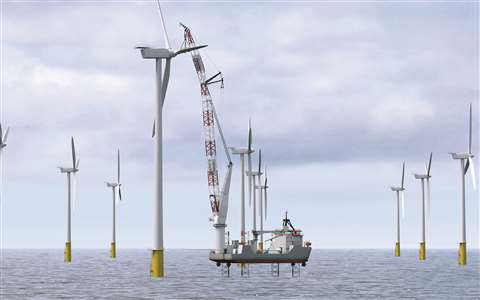 With governments around the world increasingly turning to renewable sources of energy, the current wind farm sector is thriving. As such, a number of offshore lifting product innovations have been developed specifically for this market.
International lifting and offshore services specialist Huisman has developed a new crane series for maintenance work on offshore wind turbines. Called the Foldable Offshore Crane, Huisman says its features include, "unparalleled lifting heights and more than sufficient lifting capacity with a foldable boom resulting in less required deck space and a low own weight of the crane." Huisman says it will need a smaller and, therefore, cheaper jack up vessel than is required with existing cranes for this application.
The new crane can be used to change turbine components to a height of 160 metres above deck from a small (70 metre long) jack-up vessel. Its folding boom means a small footprint when in storage position. Models designed so far in the series range in capacity from 200 to 500 tonnes, with maximum load moment ratings from 12,000 to 30,000 tonne-metres. Larger models will be possible as the size of turbines grow, the company says.
David Roodenburg, Huisman director of strategy and business development, says, "In addition to our innovative solutions for the installation of increasingly large wind turbines, we see many opportunities to improve efficiency, and thus lower costs, for maintenance. With this new crane type we believe to have designed a cost-effective means to perform maintenance on existing and future wind turbines."
Storing the lifting hooks inboard simplifies inspection and maintenance, says Huisman. Extra boom clearance is gained by tilting the knuckle. It simplifies lifting large loads and reduces the required boom length to reach above the middle of a nacelle, the company adds.
Heavy lift crane
German crane manufacturer Liebherr has also been working on a new crane for the offshore wind sector. It's building a heavy-lift crane for the Orion, a new wind farm installation and platform decommissioning vessel ordered by Deme from Cosco (QiDong) Offshore, a subsidiary of Cosco Shipping Heavy Industry in China.
Designated as the HLC 295000, Liebherr says that it will be the biggest crane it has developed so far. It's rated at 3,000 tonnes at a radius of more than 50 metres, with a lifting height in excess of 170 metres. Delivery is planned for spring 2019.
Liebherr states its maritime hub in Rostock, on Germany's Baltic coast, is well suited for the manufacturing of such large offshore machines. Steel construction, assembly, installation, loadout and testing will be carried out at the facility. In addition to the main crane, the order also includes two of Liebherr's RL-K 4200 knuckle boom cranes and an offshore crane simulator.
Contract wins
Away from the wind sector, business also remains buoyant. Offshore and marine industry engineering solutions specialist MacGregor, part of the Cargotec group, has received an order from Yangzijiang shipyard in China to equip five 62,000 dwt open hatch bulk carriers (OHBC) with cranes and hatch covers. The crane element of the order comprises the delivery of 20 cranes; four per vessel. Each crane will have an active rotation control (ARC) system, which stabilises and automatically rotates a load in the air. "This enables faster load handling, reduces cargo damage and delivers considerable energy savings," says Leif Byström, senior vice president, cargo handling, MacGregor. Equipment deliveries will start in 2018 and continue until 2019.
MacGregor has also signed a contract to supply oceanographic winches and Triplex deck handling systems to a new research vessel being built by the Fassmer shipyard in Berne, Germany. The new dual-fuel (LNG) 74 m vessel, Atair II, is under construction for the German Federal Maritime and Hydrographic Agency (BSH). It will operate in the North Sea and the Baltic Sea, conducting hydrographic surveys and wreck search operations, in addition to marine environmental monitoring. The vessel will have a 200 square metre working deck that features laboratories and an air pollution measurement station. Equipment deliveries are planned for completion by the end of the first quarter of 2019.
Brazilian ship-owning company CBO has commissioned engineering company Rolls-Royce to equip an existing offshore platform supply vessel (PSV) with a new patented dual draglink (DDC) subsea crane, including the cable traction control unit (CTCU), cabin, and control system. According to Rolls-Royce, this will be the first installation of a subsea crane designed to be able to use either fibre or steel wire rope.
The hybrid DDC subsea crane will be installed on the vessel CBO Manoella, which is being retrofitted from PSV into a ROV support vessel (RSV). The active heave compensated crane is designed for continuous operation in a tough and corrosive offshore environment with a focus on efficient and safe load handling, said Rolls-Royce.
The crane that will be installed on CBO Manoella is a hybrid dual draglink crane with a lifting capacity of up to 50 tonnes and an operating depth of up to 3,000 metres. Although it will have a wire rope when it embarks on its first subsea assignment off the coast of Brazil, Rolls-Royce said the possibility of swapping to fibre rope provides flexibility in a challenging market. Because of the low weight of the fibre rope, the vessel's deck load capacity can be increased by approximately 100 tonnes, Rolls-Royce claimed. Another benefit of using a low weight fibre rope instead of steel wire is increased lifting capacity at large depths, Rolls-Royce added.
The CTCU forms the crane winch and is located at the crane's main boom. This saves space compared to when the CTCU unit is mounted below deck, said Rolls-Royce. It also makes it a better choice for retrofits, the company added. The horizontal elbow derrick movements provide active heave compensation (AHC). Rolls-Royce said this significantly reduces wear and build-up of heat in the lifting line compared to when the AHC is part of the winch.
Marcelo Martins, CBO technical director, said, "This is one of two vessels CBO is now retrofitting from PSVs to RSVs, and we are very satisfied about the flexibility of the crane from Rolls-Royce. A hybrid solution, with use of either fibre or wire, makes the vessel better prepared to take on a larger variety of future subsea tasks."
CBO Manoella has a 76.7 m overall length, a beam of 17 m, and a gross tonnage of 2,668 tonnes. It is a Rolls-Royce UT 715 L design and entered service in 2009. It was then number two in a series of nine UT 715 L-designs ordered by CBO. Today the vessel is part of CBO's fleet of 27 offshore vessels, of which 14 are UT-designs from Rolls-Royce.
New and old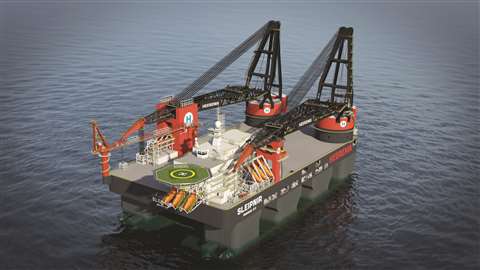 Marine engineering specialist Heerema Marine Contractors (HMC) has already announced the first two contract wins for its new semi-submersible crane vessel Sleipnir, which won't come into service until early 2019.
The first contract is from Noble Energy Mediterranean, for transportation and installation services associated with the Leviathan Production Platform in the Mediterranean Sea. The second transport and installation contract has been awarded by Maersk Oil for the new production and living quarters platforms as part of the Tyra Future project. Sleipnir will have a pair of 10,000 tonne capacity cranes and is currently under construction at Sembcorp Marine in Singapore.
Commenting on the contract wins, HMC says they are confirmation that the industry welcomes a lifting capacity that provides the opportunity to install larger integrated structures in a single lift without compromising the flexibility and robustness of traditional installation methodologies.
HMC has also announced its well-known semi-submersible crane vessel Hermod will be retired at the end of 2017 after nearly 40 years of operation. Hermod was one of the first vessels of its kind, designed and constructed in the 1970s. The heaviest lift it performed was the Peregrino topside in Brazil in 2010 with a dry weight of 6,287 tonnes.
Offshore installation specialist MPI Offshore has been named as a preferred supplier for the transportation and installation of offshore wind turbine foundations and offshore substations for the Triton Knoll wind farm project in the North Sea between the UK and Norway. The job would involve the installation of 92 monopile foundations and transition pieces, and two offshore substations. If it is awarded the job MPI Offshore says it would use its MPI Discovery jack-up vessel to lift, transport and install all the foundations. Key features of MPI Discovery include a 1,000 tonne capacity main crane, plus a 50 tonne capacity auxiliary crane, accommodation capacity for 112 people, a maximum operating depth of 40 m (at 5.0 m leg penetration and 7.8 m air gap) and an ability to jack with 6,000 tonnes of cargo on board.
Foundation installation
Finnish wind power production company, Suomen Hyötytuuli, has completed the installation of gravity base foundations at the Tahkoluoto Offshore Wind Farm, Pori, Finland, using Enerpac's Synchoist load positioning system.
The Synchoist is used below the hook and comprises four independent, self-contained PLC-controlled hydraulic lifting cylinders, used either directly between cables or under an auxiliary frame. Enerpac says this enables accurate hoisting where space is limited.
The company says the system also provides a safer, easier-to-use, cost-effective alternative to using more than one crane for the positioning of heavy loads. The problem with using multiple cranes, Enerpac says, is that synchronising movements between them can be difficult, increasing the risk of damage to the load and support structures as well as jeopardising worker safety. With the Synchoist, these issues are negated, the company claims.
For this job, following preparation of the seabed to provide a level surface, the hollow gravity base foundations, weighing up to 500 tonnes, were installed. During lowering through the splash-zone and positioning on the seabed, the Synchoist system was used below the crane hook to ensure the foundations remained as close to vertical as possible. This prevented damage to the levelled seabed surface and facilitated the subsequent addition of the turbine towers.
To handle the foundation lifts without distorting the transition piece flange used to connect the turbine tower, an X-frame lifting tool was developed that connected to the flange. It comprised a lifting frame with four SyncHoist, self-contained PLC-controlled, double acting, push-pull hydraulic cylinders at each corner, and a diesel hydraulic powerpack with battery back-up.
According to Enerpac, high precision manoeuvring of the foundations by the Synchoist system was performed wirelessly by an operator working alongside the foundation installation team. This allowed the operator to lift and lower each cylinder independently to balance, tilt and position the load in response to feedback from four levelling sensors on each foundation.