Offshore lifting: Water works
By Christian Shelton02 January 2020
With offshore installation components growing ever larger there is a need for bigger cranes and associated equipment to carry out offshore construction and decommissioning work. The extent to which this is happening is illustrated by ship and port crane manufacturer Liebherr-MCCtec Rostock which has inaugurated its new heavy-duty gantry crane TCC 78000. The company says it will use the gantry crane for the loading and assembly of its own maritime cranes which it says are growing ever larger. The gantry crane will also be available for hire to other companies that need to handle heavy loads at the port.
TCC stands for travelling cargo crane. The crane has a maximum lifting capacity of 1,600 tonnes and a total height of 164 metres with the jib raised. It is located at Rostock Overseas Port in north east Germany. Liebherr said it has invested around 45 million euros in the new crane system.
The TCC 78000's first major lift will be Liebherr's HLC (Heavy Lift Crane) 29500, which Liebherr says is the most powerful crane it has ever built, onto the offshore installation vessel Orion. Orion will be used by the offshore marine engineering company GeoSea for the construction of large offshore wind farms and to service the oil and gas industry and for decommissioning of offshore installations.
The rail-mounted heavy-duty crane has double bogeys (two rails per side) and a track gauge of 30 metres. It will move on a portal between the northern Liebherr plant site and the adjacent quay.
Offshore orders
Liebherr has also received an order for three offshore cranes from the ENM Korea and Pro DGS shipyard facility in Istanbul, Turkey. The cranes will be operated by the Basra Oil Company in the Arabian Golf. According to Liebherr, this is the first offshore crane order it has received from Turkey.
The order comprises two RL 1500 ram luffing cranes and a BOS 14000 board offshore crane. Both RL cranes will be equipped with a lifting capacity of 50 tonnes, even though the standard lifting capacity of this system is only 40 tonnes. The increased safe working load (SWL) will be provided by the use of bigger winches. They will mainly be used for offshore supply and maintenance purposes.
The BOS 14000 has a lifting radius of almost 50 metres and will be equipped with a 12 fall reeving to provide a safe working load limit of 600 tonnes. It will be used for lifting single-point moorings (SPM) that must be maintained on the open sea. These moorings are anchored floating buoys which allow loading or offloading of gas or liquid products for tanker ships. The BOS 14000 diesel-hydraulic driven heavy lift crane is one of the biggest of Liebherr's board offshore crane series. Together with one of the ordered RL cranes, it will be mounted on a heavy lift barge. The second ram luffing crane is going to be in operation on a multipurpose vessel.
Liebherr has also received an order from Navtech Marine Services based in the United Arabian Emirates for an RL 2650, the second biggest crane in Liebherr's ram luffing series, to equip a new build jack up barge. According to Liebherr, the crane will provide a lifting capacity of 75 tonnes, which is exceptional for this system size.
The cylinder luffing crane is characterised by a box boom and a compact structure. Its pedestal has a diameter of less than three metres. To guarantee the required lifting capacity of 75 tonnes the crane will be equipped with a reinforced slewing bearing and slewing column.
The offshore crane will be used for service tasks in the Persian Gulf where Navtech Marine Services needs to lift heavy parts on existing oil platforms and carry out maintenance tasks.
Liebherr has also received an order for a BOS 2600 board offshore crane from shipbuilder CIMC Raffles, who is building a jack up vessel for British multinational oil and gas company BP. The jack up vessel is being built in Yantai, China, where the BOS 2600 will be delivered. Once complete, the jack up vessel will be used in the BP Greater Tortue Ahmeyim oilfield, off the coast of Mauritania and Senegal. The BOS 2600 has a maximum capacity of 30 tonnes and will be used for supply and maintenance tasks on the jack up accommodation platform.
In Taiwan, the Yunneng Wind Power Company has commissioned Austrian crane manufacturer Palfinger to supply 81 PF12000-4.6 LDB (lay-down boom) cranes for its Yunlin Offshore Wind Farm project. The windfarm consists of 80 turbines and has a project capacity of 640 MW. Each turbine platform will be equipped with one fixed boom crane, which has an outreach of 4.6 metres and a lifting capacity of 1 tonne. The extra crane will be installed onshore for training purposes.
According to Palfinger, if serviced regularly the latest generation of its PF crane series does not require any spare parts for typical offshore wind applications for around two years. It says all components meet corrosion class ISO 12944-9 category CX and all electrical components that will be staying outside permanently comply with a protection class of at least IP 66.
Jack up vessels
Danish drilling rig operator Maersk Drilling has taken delivery of the first Chela crane manufactured by offshore mobile equipment design and engineering company GustoMSC. Having passed its factory acceptance test (FAT), a quality assurance requirement, it is now being installed on the Maersk Invincible - a GustoMSC CJ70 drilling jack up vessel which is soon to operate offshore in the giant oilfield Valhall in the southern Norwegian North Sea for oil company AkerBP. The Chela is designed to lift 22 tonnes at 21 metre radius underneath the cantilever at any position, thus not obstructing any wellhead deck space.
GustoMSC's Apollo vessel, an NG-5500X self-propelled jack up design capable of undertaking autonomous transit and positioning offshore, has completed its third job: the decommissioning of the Halfweg Platform in the North Sea.
The Halfweg platform is a three-well unmanned gas production facility in the North Sea, installed in 1995. The 500 tonne Halfweg gas platform topside, including the four foundation legs, was removed and brought to shore for recycling. According to GustoMSC, the project illustrates the growing market for dismantling in the North Sea. In the Dutch sector alone, it says, 77 of the 150 remaining platforms must be removed by 2025.
GustoMSC has also received an order from Japanese construction conglomerate Shimizu Corporation for the construction of a GustoMSC SC-14000XL jack up vessel with an integrated Telescopic Leg Crane which will be built by shipbuilder Japan Marine United. Delivery of the vessel is expected in late 2022.
According to GustoMSC, once complete it will be the largest self-elevating platform for offshore wind installation to date in Japan and capable of installing wind turbines up to 12 MW. According to GustoMSC, the Telescopic Leg Crane has a high hoisting capability for turbine installation and heavy load capability for foundation installation. The telescopic boom avoids the protrusion of a long crane boom outside the hull dimensions during transit, thus increasing manoeuvrability in ports or in transit.
The crane capacity for foundations is up to 2,500 tonnes at a height of 121 metres, and wind turbine components can be installed at a height of 161 metres, with a maximum load of 1,250 tonnes. The crane has been designed to serve the latest generation of offshore wind turbines. According to GustoMSC, plans are underway in Japan for a total of 9GW of offshore windfarm generation capacity using a new generation of larger, more economically efficient, ultra-large-scale wind turbines of 9 to 12 MW in size.
The GustoMSC SC-14000XL jack up vessel will be 142 metres long, 50 metres wide. It will have a total tonnage of 28,000 tonnes and accommodate 130 people. Besides the Telescopic Leg Crane, the unit will be equipped with the GustoMSC Rack and Pinion jacking system with a variable speed drive.
SAL Heavy Lift, a carrier that specialises in the sea transport of heavy lift and project cargo, has added a fly jib to its inventory of equipment available for use on its heavy lift vessels. The fly jib extends the reach and lifting height of the main cranes's booms on SAL's Type 183 vessels (MV Lone and MV Svenja), although MV Lone is the first vessel to carry the new equipment.
According to SAL, it worked closely with TTS-NMF, the manufacturer of the cranes on its Type 183 vessels, during the design stage of the fly-jib. The fly-jib can be configured in l23 metre or 13 metre setups and can be used in three different angles.
Decommissioning developments
Oil and gas company Perenco has commissioned Maersk Decom to project manage the removal, recycling and waste management of subsea infrastructure for its Thames field in the UK North Sea. Maersk Decom was created in April 2018 as a 50:50 joint venture between Maersk Drilling and Maersk Supply Service to provide scalable decommissioning solutions to the offshore energy industry.
The Perenco project includes the cutting and recovery of wellheads and wellhead protection structures, as well as end-to-end recycling and waste management. It is being delivered by an integrated team covering project management, engineering, and execution from subsea support vessel Maersk Installer.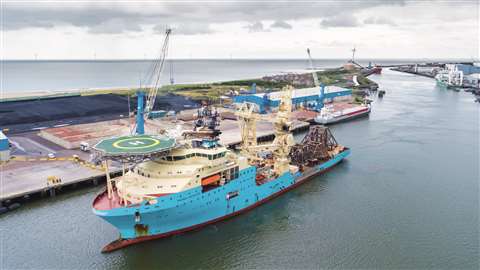 Subsea support vessel Maersk Installer will aid decommissioning of the Thames field in the UK North Sea
"This is an important milestone for Maersk Decom, being the first project that moves our new company from studies and project development into execution," says Lars Banke, chief executive officer of Maersk Decom. "By integrating the project team, we will be able to ensure a seamless interface between the recovery and disposal scopes."
Oil and gas company Spirit Energy's ST-1 oil platform has now arrived at the Dales Voe dedicated decommissioning facility in Shetland where up to 97 percent of it will be recycled.
The removal of the 1,200 tonne topside and the 45 metre high, 1,300 tonne jacket was carried out in two single lifts by Seaway 7, the renewables and heavy lifting business unit of London-headquartered subsea engineering, construction and services company Subsea 7. To do this it used its Seaway Strashnov heavy lifting vessel, which has a 5000 tonne capacity revolving crane with a main hook lifting height of 100 metres.
The topside of the Brent Bravo offshore oil platform has been lifted and then loaded-in as part of the decommissioning of the Brent oilfield which is located approximately 186 km north east of the Shetland Islands.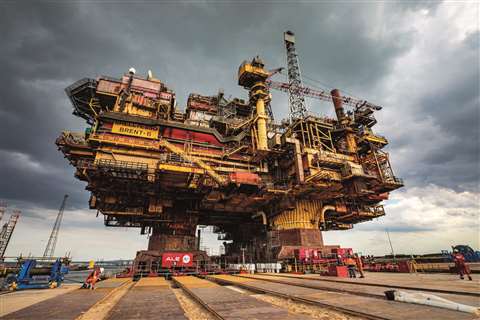 The topside weighed 25,000 tonnes and was lifted for removal in June 2019 by Swiss-based offshore heavy lift contractor Allseas using its vessel Pioneering Spirit. The lift took four hours.The topside was then transported by Allseas to the coast off the north east of England where it was transferred to a purpose-built 57 metre x 200 metre barge and towed to marine decommissioning specialist Able UK's facility at Able Seaton Port near Hartlepool.
From here UK-headquartered heavy lift and transportation specialist ALE carried out the load-in of the topside. The barge was manoeuvred in front of the quayside and ALE installed skidding equipment on the demolition pad at the port, plus several hinged link beams, extending the skid tracks from the barge to the quay for safe and stable load-in.
The topside was then taken over onto the skidding system using the internal hydraulic cylinders of the skid shoes. This system consisted of twelve 500-tonne skid shoes, forty eight 650-tonne skid shoes, twelve 800-tonne skid shoes, thirty two push-pull units and three hydraulic power units.
In total, the topside was skidded 105 metres over the course of six hours. Brent Bravo was then handed back to the client for dismantling and recycling.
Subsea spreader beams
UK-headquartered global engineering company Modulift has made changes to its standard range of modular spreader beams so that they can now be used in water up to a depth of 150 metres at no extra cost.
According to Modulift, due to the efficient shape and weight of its spreader beams, its engineering department has been able to improve the beams' integrity so that they can now withstand water pressures up to 50 metres, 100 metres, or 150 metres. This, Modulift said, now means the same spreader beam can be used for onshore, offshore, and subsea applications.
Four of Modulift's spreader beam series are available for subsea applications: MOD 70, MOD 110, MOD 250 and MOD 400. All new products come with a Declaration of Conformity to confirm their subsea capability so that customers know that they meet the required standard.
Modulift's technical director, Sue Spencer, says, "Our standard spreader beams are highly efficient owing to their shape. This makes them perfect for subsea applications as the circular shape minimises the water drag and maximises the buoyancy, which is an ideal requirement."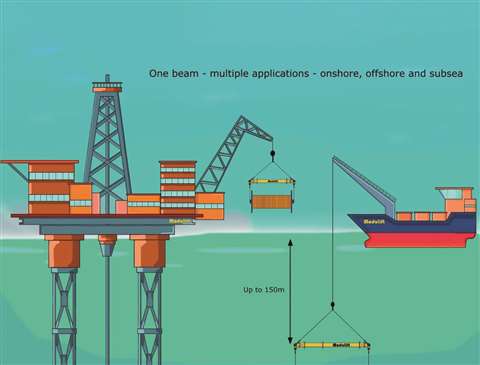 This year Netherlands-headquartered lifting, drilling and subsea solutions specialist Huisman is celebrating its 90th anniversary. The company was founded in 1929 by M.M. Huisman as a steel construction company. It has been family owned and operated by three generations of the Roodenburg family since 1980.
Huisman says that the anniversary coincides with a combined production total of 150,000 tonnes of lifting capacity – calculated by adding up the capacity of all cranes built by Huisman over the last 90 years. The very first crane is still in service.