Oil spill project for Scheuerle
By Laura Hatton29 April 2015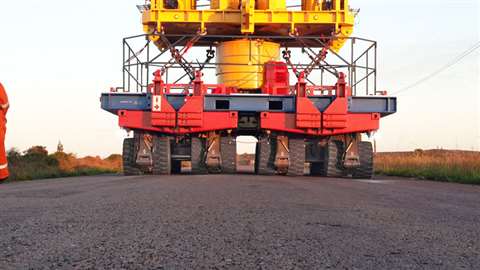 Oil Spill Response Limited purchased transport vehicles from Scheuerle to help transport intervention equipment used for subsea oilwell blowouts.
The cargo includes capping, dispersant and containment equipment. The capping stacks can completely seal off escaping oil in the event of a well failure and can be mounted on wells as deep as 3,000 metres, the company said.
The specialist equipment was designed and developed by the Subsea Well Response Project (SWRP), a consortium of nine companies, following the Macondo oil well failure incident in 2010 in the Gulf of Mexico. Oil Spill Response Limited stores and maintains the equipment in Brazil, Norway, Singapore and South Africa in a 'response ready' mode, ready to be deployed in the event of an incident.
To transport the 120 tonne capping stack to a ship OSRL uses transversely-coupled Scheuerle self propelled modular transporter (SPMT) from the German manufacturer's Light series. The capping stack is permanently loaded on the vehicle ready to be mobilised when required.
The SPMT Light series is designed to be compact, measuring 6,000 x 2,438 mm on four pendulum axles. It has a payload up to 86 tonnes and electronic multi-directional steering. In addition, it has fixing points on the top of the platform to allow the mounting of cargo control posts for transporting long materials.
Jannick Mathieu, TII Sales area manager, said, "The SPMT Light, which was designed among other equipment for heavy load transportation for internal use in plant and steel construction as well as special assignments such as for Oil Spill Response Limited, is employed here in a very sensitive situation. In the event of an incident, it has to function perfectly and our customers know that they can fully rely on this."