Oil & Steel appoints UK distributor
By Euan Youdale20 August 2020
Oil & Steel has appointed Hird as its new distributor for the UK.
Hird has more than 35 years of experience in renting and selling lifting, moving and working at height equipment, including in the mini crane rental sector. It has worked on many major infrastructure projects, including the construction of The Shard in London, the tallest building in Western Europe.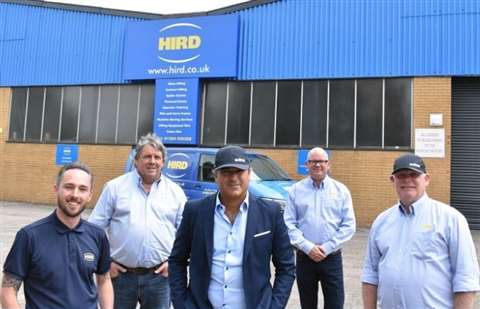 Front, from left: Phil Hird, managing director, Hird; Fabrizio Girotti, general manager, Oil & Steel; Carl Cooper, sales and after-sales manager, Hird. Rear, from left: Alan Peck, West of England manager, Hird; and John Wilding, director, Hird.
Fabrizio Girotti, general manager of Oil & Steel, said, "This agreement represents Oil & Steel's return to a strategic market and contributes to the internationalisation of our brand. A fundamental requirement for choosing a partner was the ability to support the market with an impeccable after-sales service. I can say that Hird is fully equipped to support and assist customers for any need.
"Hird managing director Phil Hird, added, "We're delighted to team up with Oil & Steel. It was an easy decision to make thanks to the fantastic relationship we already have with Manitex International [owner of Oil & Steel] in supporting its sales across the world. Oil & Steel gives us a vast array of high-quality products that dovetail perfectly with our wider portfolio, allowing us to draw on our core expertise and values in lifting and powered access to strongly support the company in the UK."
With this in mind, Hird will be launching a new Oil & Steel UK sales website and is planning road trips to introduce the brand.
Hird has already confirmed a first order of Snake 2010 H Plus and Scorpion 2013 platforms. The Snake 2010 H Plus has a double pantograph boom that allows operators to reach a maximum working height of 20m and an outreach of 10.2m, with a maximum capacity of 250kg.
The Scorpion 2013 is a latest generation Oil & Steel telescopic aerial platform, particularly suited to the European rental market, with an operating height of 20m. The 2013 can reach horizontally up to 12.5m, with a capacity of 80kg in the basket. At 8.5m outreach, the platform can reach 250kg capacity. The platform is ideal for use in urban centres and is easy to operate thanks to fully-hydraulic proportional controls.