Oilibya win for Mammoet Rally team
By Laura Hatton21 October 2015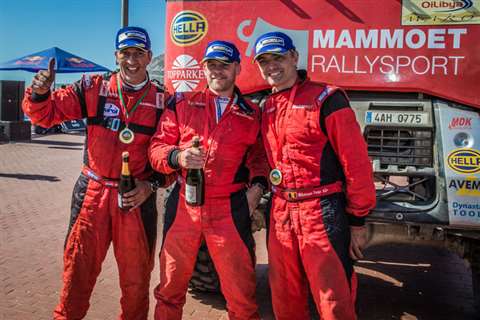 Mammoet Rallysport has won its first official World Championship at the Oilibya Rally 2015 in Morocco.
The Oilibya Rally 2015 was held over five days, from 3 to 9 October 2015 and covered 1,358 kilometres. The circuit was made up of stony and sandy tracks, as well as dunes. Heavy lift and specialized transport company Mammoet sponsored two of the trucks in the rally.
One of the trucks was driven by Mammoet Rallysport driver Martin van den Brink, who won the rally, and the second truck, driven by Pascal de Baar, finished 7th.
The two Renault trucks with Pirelli tyres were being tested for the upcoming Dakar Rally, which will be held in 2016. Despite technical challenges, including a broken turbo, cracked leaf springs, and worn out tyres, both teams delivered a great performance, a spokesperson said.
Van den Brink said, "I am terribly excited by this victory but don't want to be euphoric. This is the Oilibya Rally and not the Dakar Rally. We came here for testing and it has become clear that we still have a lot of homework to do. But, of course, this victory gives us confidence. We are on the right track."
Both teams of Mammoet Rallysport will compete with the two Mammoet-sponsored trucks in the 38th Dakar Rally in January 2016.