On the demolition trail
By Lindsay Gale19 November 2008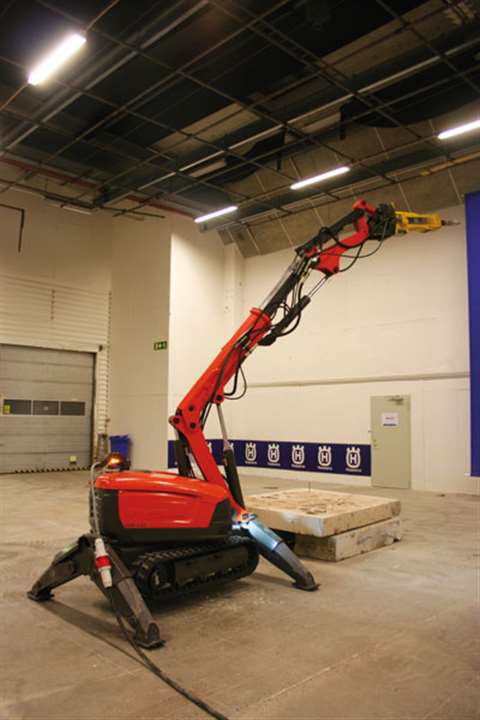 A new player has appeared in the demolition robot sector with the launch of Husqvarna's new DXR 310. Lindsay Gale reports on the machine and on the background of this ambitious move by the Swedish construction tool producer
Demolition robots are not an unknown territory to Husqvarna, but the DXR310 is the first model it has produced itself. Executive vice president and head of construction products Anders Stroby told D&RI: "I think that demolition robots have been viewed as being in a small, niche sector but I am convinced that our entry will not increase competition within the sector but will provide an opportunity to further develop the market for these machines. The more penetration there is in a market, the larger that market becomes."
He went on to explain the reasoning behind the development of the machine. It is Mr Stroby's firm belief that the customer base currently served by Husqvarna will also be the same for the demolition robot. Many of Husqvarna's construction tolls, such as its wall saws, find application in demolition/renovation work and these customers will naturally have a requirement for the kind of capabilities demolition robots offer. The company began examining potential opportunities for growth areas in 2005. As a result, it identified three main opportunities - wall drilling, floor grinding and demolition robots.
Where the demolition robot was concerned, Mr Stroby said: "It is a market where there is really only one major player, and I am somewhat amazed that other companies, such as JCB or Komatsu and the like, have not identified the potential. However of course, they do not sell to our customer base so do not tailor their products to this market. We estimate the market for demolition robots to be perhaps 300-400 units a year."
So what is Husqvarna bringing to the sector? Thomas Nilsson is Husqvarna's business manager, demolition equipment. He told D&Ri: "Our robot uses a well established industrial remote control that works very well - we have run five machines simultaneously at the same site with no difficulty. The machine is driven electrohydraulically with a 22 kW power unit and weighs in at 1,900 kg (4,180 lb) with a 5.5 m (18 ft) reach carrying a 250 kg (550 lb). Extensive field testing is on-going with a number of machines, two of which have been running for more than 500 hours."
According to Mr Nilsson, production of six machines will begin in November, termed the 0 Series, in order to verify the production process - these will be production machines and not prototypes with full production continuing after these machines have been built. In the first year, Husqvarna plans to build approaching 50 models - not a massive volume, but given the nature of the market for these machines, Husqvarna is confident that this volume will be sufficient for it to establish itself firmly in the market with a market share approaching 10%.
Mr Stroby continued: "A lot will depend on the economic conditions we experience next year, since it could be a tough year, but the demolition robot is for us a typical investment product.
Mr Nilsson went on: "Quality is key. We recognised that customers have very high demands where quality is concerned with these products. Given the environments they work in, they need to be top-notch machines so that is something we focussed on from the very beginning. One big difference with our machine is that we have a single cast base-plate rather than steel plates welded together to provide high strength, especially where the arm joins the body of the machine. By optimising the material thicknesses, we can put more weight on the back of the machine. The casting also includes lifting points at the corners and all the necessary fastening points."
Another design effort was to produce as low a tower and base as possible to provide maximum visibility for an operator standing behind the machine and this has the added benefit of helping with stability. In addition, ease of maintenance was another main design driver - Husqvarna spent considerable effort ensuring that the packaging of the various systems on the machine are as accessible as possible.
The machine uses state-of-the-art systems. The hydraulic system is the lasted available technology, while the PLC unit that is the brain of the machine is a well-proven Finnish system that is already used on machines working in arduous applications such as mining and forestry, with all the programming of the unit having been done by Husqvarna.
One unusual feature of the machine is that it is fitted with LED working lights, which Mr Nilsson said produce better light than standard lights and also have the advantage of lasting for 20,000 hours and will not break when subjected to vibration.
In the first year, the company plans to only sell the machine in countries where it knows it will be able to support it fully in the field. This means that it will only be available in Sweden, with other possibilities including the UK, the Netherlands, France, Finland and the USA. Good service and support is something that Husqvarna considers to be vital from the very beginning and it will be providing full training facilities for its dealers, customers and sales persons.
"In terms of a demolition robot range, we are currently planning for a second smaller machine around 1.5 tonnes in weight because there seems a strong demand for a machine in this size range. Another new machine should appear in the second half of 2010 that will be around 1,000 kg (2,200 lb) in weight," said Mr Nilsson. "We are coming into this sector as number 2, but Husqvarna's stated goal is for it to be number 1 in all the construction sectors we are active in, so that is also our aim where demolition robots are concerned," concluded Mr Stroby.