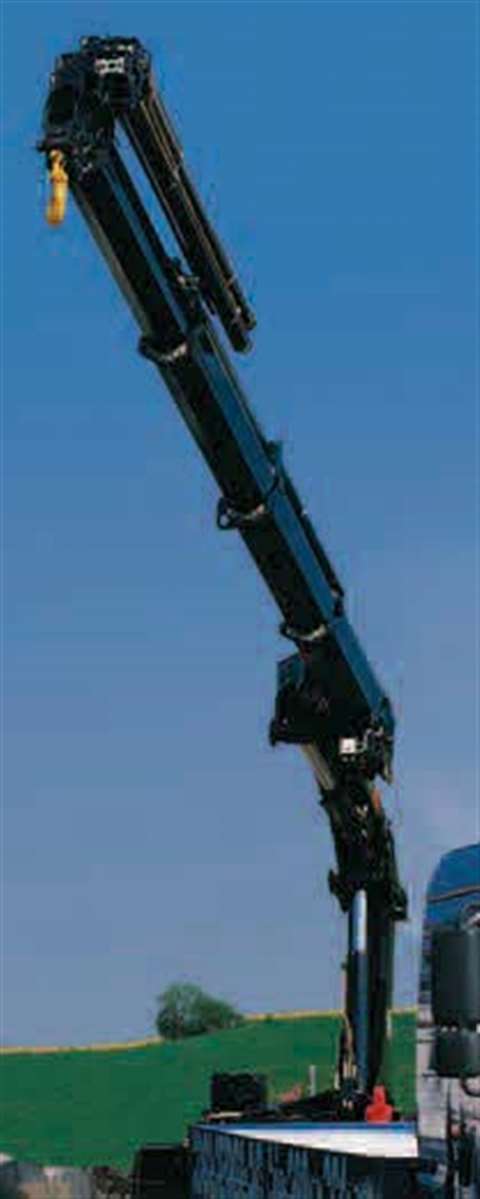 Product development in the knuckle boom loader crane sector includes a raft of new models with further structural optimisation, use of higher-grade steels, and electronic computer controls to maximise capacity, safety and smooth operation. And demand is increasing for larger cranes says, for example, Mark Rigby, director and general manager of UK Palfinger distributor TH White. Rigby says the numbers of units sold in the 20 tonne-metre and larger categories has been doubling in the last couple of years.
While all manufacturers in the sector have been busy expanding their product ranges, Palfinger has been the most prolific. This leading manufacturer, based in Austria, has launched 23 new models, five new fly jibs and two technological innovations in the last 12 months, says Harald Böhaker, head of corporate marketing.
The full list of new Palfinger models is as follows: PC 801; PC 1300; PC 2300; PC 3300; PKG 7001; PK 12001L; PK 15001L; PK 40001EL; PK 150002; PK 100002; PK 12000T/14000T/16000T/18000T; PK 23500; PK 18500; PK 8500; PK 600TK; PK 800TK; PKK 8500; PKK 15500; PK 4100; and PK 2200.
The new fly jibs are: PJ 40; PJ 60; PJ 80; PJ 125; and PJ 170.
Also recently prolific in product developmentis Germany-based Terex-Atlas, which announced ten new models in 2004. The company reports a "solid order book stretching well into 2005." The Terex-Atlas range covers 36 basic models from 0.47 to 60 tonne-metres, which can be built in 210 different versions. Gross weight ranges from 0.125 to 7.32 tonnes. For 2005, the production capacity of the works is being increased from 2000 to 3000 units at the 60000 m2 Delmenhorst site.
The latest new models from Hiab are three units in the XS series. First, in the 7 to 10 tonne metre class, is the XS 099. Next, is the mid-range XS 244, in the 20 to 24 tonne-metre class. The third new model is the XS 322 in the 27 to 32 tonne-metre range. Maximum capacity at 21 m is 800 kg, and the outreach can be increased to 26 m by ordering a 70X-4 jib.
Italian home
Italy is home to the majority of loader crane manufacturers, all of which are busy developing new models. Amco Veba is working on a new 85 tonne-metre series, the VR 85, a knuckle boom range that will have up to 10 hydraulic extensions and three slew motors. Maximum reach of the VR 85 10s will be 24 m horizontally and 28 m vertically, and more on fly jib versions. The three motors will allow a higher heel angle, possibly up to 8 degrees, instead of the usual 2 or 3 degrees with one or two motors.
New from Copma are the 810 and 830 series. Also new and available with up to eight extensions and a jib are the 400 and 430 series. Incorporated into new Copma models as the range is expanded, redesigned and updated is a reverse boom angle (-10 degrees) feature.
Widely promoted at recent exhibitions is Cormach's 125000-E9 F186 from the top end of the range. Cormach is increasing its focus on sales to armed forces, and it has recently supplied four 110 tonne-metre models to the Italian Air Force and seven 50 tonne-metre units on 6x6 recovery trucks for the Algerian Army. Another recent order for large Cormach cranes was 11 units of 160 tonne-metre cranes for the Italian Fire Brigade.
In addition to Effer's new 3 tonne-metre model 30 Easy Power, for mounting on trucks below 3.5 tonnes, the company has been promoting its larger models, including the 1550-J-Power in the 115 tonne-metre class and the 130 tonne-metre 1750/L/8S.
New models from Fassi, which celebrates its 40th anniversary this year, include four in the midrange and one at each end of the capacity scale. The new mid-range models, F175A F195A, F215A and the F235AXP, are all additions rather than replacements. "Innovation is one of the strong points of our company. Every year Fassi Gru presents many new products, thanks to our work in research and development. This year the company starts selling the new models presented at Italy's SAIE exhibition last October. First of these is the F1300 AXP, the 'younger sister' of the well-established F1500 AXP.
"Designed to handle heavy loads and a high volume of work, the F1300AXP should represent a good return on investment," explains Giovanni Fassi, managing director of Fassi Gru.
On further developments Giovanni Fassi commented, "In 2005 we will present many important electronic machine management developments. By the end of the year, in fact, all the mid-heavy duty range cranes (from the F240 to the F800) will be fitted with the Pro-link (Progressive Positive Link) system that allows the secondary boom to rise 15° beyond its horizontal position."
At Flli Ferrari Corporation, which is owned by Amco Veba, a recent new model is the 726 with four hydraulic extensions. All Ferrari cranes have a cast base and three new models are in development. They will be a combination of additions to the range and replacements for existing models. One will be in the 50 to 60 tonne-metre class.
New from Autogru PM are the 43S and 47SP, available with between two and eight hydraulic extensions and a four extension jib with reverse angle inclination of up to 20 degrees from horizontal. Maximum horizontal reach is 28 m and slewing is continuous with two motors. Standard is a Danfoss valve block and remote control.
Smaller range
Where most manufacturers are extending their ranges upwards, one has recently focused on a return to the lower end of the scale. For many years Thailand-based Herkules has not produced small truck loader cranes (less than 25 tonnemetre), but after being approached by many customers early last year, the company decided to design a new range. There are five new models: W4500, W5500, W7000, W9000 and W12000, where the model numbers refer to their respective capacity ratings - 4.5 tonne-metre, 5.5 tonnemetre, etc.
"The W4500 and W9000 are completely new designs, which use an improved version of the classic Hiab patent," says Jacob Lillie, Herkules Crane Co chief engineer. "We have improved the design by placing the luffing boom actuator on the upper side of the main boom, thereby avoiding crane collapse or damage because the load cannot strike the actuator. Another advantage is the fact that the luffing boom can be angled upwards relative to the main boom, which makes for a more versatile crane, but this concept has already implemented in all of the Herkules truck loader designs since the mid-sixties," Lillie continues. All models are fully hot dip galvanized and epoxy painted.
Lillie says sales of the new models are going well, having so far delivered 21 units of the W9000 and 20 of the W5500 / W7000. "We are currently fabricating 30 more units for our local market and more orders are on the way," Lillie adds.
Further up the range, the 145 tonnemetre truck loader in the Herkules range has been upgraded to 150 tonne-metre (now called W150000) and the lifting radius has also been increased. "We believe this is the largest truck loader crane on the market today" says Jacob Lillie, Herkules Crane Co., Ltd chief engineer.