Operator assistance devices: Automated assistance
By Christian Shelton17 July 2018
Increasing integration between different types of technology is helping to enhance operator safety and increase productivity. CHRISTIAN SHELTON reports
We have seen a rapid growth in the use of cameras on job sites and, thanks to continued manufacturer innovations, their importance as operator assistance devices looks set to continue.
A new player on the on the vision system market is Hookeye. The company was formed by Andreas and Jochen Köhler from German crane repair specialist Köhler Kranservice and their wireless Hookeye crane camera will be available from July 2018. It is designed to be used on a range of construction machinery for a host of applications (reversing, load monitoring, surveillance etc) and can be magnetically attached to the host crane via a number of different points. The camera can be controlled to point in the direction the operator wants it via a tablet. In addition to panning, the Hookeye offers zooming and recording functionality. The Hookeye is small and lightweight, says Jochen Köhler, and offers a high-resolution image and a running time of around 14 hours.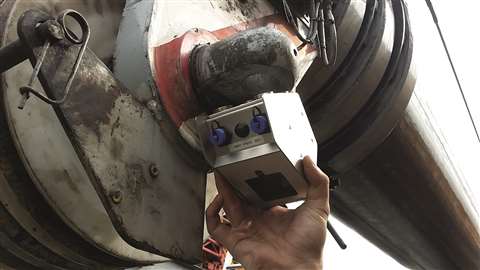 The wireless HookEye can attach magnetically to the crane's boom via a number of different points
In the UK, wireless crane camera system manufacturer BlokCam says its 2018 product development has seen the introduction of a headache ball hook type attachment, after having identified demand for this from the US crane market. BlokCam says the attachment means its battery transmitter and camera lens can be mounted on almost any sized headache ball type hook quickly and easily.
BlokCam's headache ball hook type attachment
BlokCam also has developed a new system for the mobile and crawler crane short-term rental market. The M3 system comprises a camera kit that can be installed in under ten minutes once the operator arrives at the job site. The M3's display screen can be secured to a widow via a suction mount and plugged into a power supply, such as a cigarette lighter socket. Once the operator has installed the transmitter, battery and camera lens (which magnetically attaches to the boom) the system can be switched on and is ready to go. At the end of the working day, it can be packed up, put back in its Peli case and passed on to the next operator who needs it, BlokCam says.
In the USA, East Coast-based company Netarus manufacturers and sells industrial-grade video monitoring solutions designed to improve employee productivity and workplace safety. It says its rapidly-deployable HoistCam wireless camera system for cranes provides remote monitoring, recording, and management analytics reporting to operators and site supervisors.
The company's HC140 (Gen 3) camera now has a lower profile and 360-degree rotation designed to provide a better view of the load. According to Netarus, the lower profile design was achieved by relocating the connector for the camera so that it attaches at the Video Transmission Box (VTB). With new 360-degree rotation, the camera orientation can be directed to the perspective needed by the operator.
Another product development for HoistCam is the HC180 Armored Dome which, Netarus says, facilitates productive concrete pours from tower cranes by providing the crane operator with a view of activity below the hook. A new feature of the HC180 is day and night vision for improved visibility in changing light conditions.
German company Motec manufactures camera-based Advanced Driver Assistance Systems (ADAS) for utility vehicles and mobile machines. Its latest innovation is the MCDE3000-FullHD – a full-HD Ethernet camera suitable for mobile use. According to Patrick Dury, president of Motec France, the new range provides a very high-resolution image which can be enlarged due to its quality. He says the camera market is becoming flooded with low cost, low quality imports so to create its own niche Motec has focused on producing high quality equipment and images.
Motec says it produces high quality cameras with high resolution images
There are four new cameras in the MCDE3000-FullHD range, with the flagship product being the 'MCDE3000 intelligent camera with FPGA'. FPGA stands for 'Field-Programmable Gate Array' which effectively means that software can be installed onto the camera to provide a number of functions that can assist the operator and-or increase the security around the machine or vehicle. For example, these include: person recognition; product counting and recognition; product designation; words and character recognition; and QR code scanning. The software used can be the customer's own or supplied by Motec and the company says it effectively transforms the camera into a 'visual sensor'.
Remote controls
This concept of installing additional software to customise the operator assistance device can also be seen in the remote control sector – another major area of operator assistance devices. For example, Spanish radio remote control manufacturer Ikusi Remote Control has developed the Ikugraph high resolution display which enables OEMs to develop their own feedback software with a fully configurable object library which can be supplemented with the user's images, backgrounds or icons.
Ikusi Remote Control's Ikugraph
Ikugraph is available in the Ikontrol range of remote controls and the company says it allows fast setting and customised visualisation of feedback information, which can be edited and then updated via Bluetooth. The Ikugraph can be used by different CAN bus communications and CANopen.
Cameras and remote controls are also clearly a complementary match, with a number of remote control manufacturers incorporating visual feeds into their products. For example, German radio control manufacturer HBC-radiomatic has designed the latest version of its Radiomatic Photon offering to interface with cameras from manufacturer Orlaco which,
HBC-radiomatic says, are widely used in the industry. Depending on the application, cameras with different viewing angles can be used or even infrared cameras for use in low light conditions or darkness. The Radiomatic Photon enables the operator to switch the display screen from live video mode to feedback mode. In feedback mode, critical machine data is displayed.
Switzerland-based control technology manufacturer Cavotec supplies Human Operator Interface (HOI) and radio remote control (RRC) systems for cranes. It places an emphasis on tailoring the functionality of its systems to suit the operator. "We're global and have a broad product range," says Filip Weckström, global product specialist RRC and HOI at Cavotec. "This means we offer considerable scope in terms of design flexibility. We often start with an empty box and then add the functionality the customer wants. We're listening to customers, and working closely with them, to develop the systems they need to reduce operational expenditure, improve safety, and reduce environmental impact. For example, we're integrating video into our wireless HOI systems to get crane operators away from hazardous areas. With cameras installed on cranes, and RRCs equipped with screens to show all operating angles, we're making crane operation safer and more efficient than ever before."
Smart thinking
An alternative approach to displaying important operator information has been taken by tower crane wind monitoring system manufacturer Windcrane, which recognises the importance of the smartphone as a tool in the modern world.
As a result, the company offers a smartphone app for its Windcrane offering. "If a measurement system only integrates with laptops and desktops, plenty of important information is missed," it warns. The company says its system also combines connectivity and cloud computing, providing benefits that are not available with stand-alone monitoring systems. As such, automatic notifications can be sent to construction managers and other key staff members when dangerous weather is detected, via automatic SMS or email.
Anti-collision systems
The importance of technology is particular evident in anti-collision systems where it is the only way to effectively manage the large amount of data being generated. "In the past anti-collision devices were simply considered as driver assistance systems for crane operators to help them work. Nowadays, technological advances have made these devices evolve into important security systems," comments Radoine Bouajaj, sales director at France-based anti-collision and zoning system specialist AMCS Technologies (AMCS).
The company's new DCS 61-S (Driving Control System-Safety) is designed to ensure site safety by detecting in real time the actual risk of collision between all interfering crane elements or the risk of entering a prohibited zone. Up to 44 3D prohibited zones can be defined quickly on screen, says AMCS, by simply associating geometric shapes with the areas concerned. They can also be programmed at the bottom of the crane and activated or disabled via the radio network.
The 3D system operates in real time to calculate distances between each part of the crane as well as movement speeds. According to AMCS, it enables action to be taken on equipped mechanisms to ensure complete immobilisation of the crane at a pre-set distance from a particular obstacle. It records and saves events related to "prohibited area" and "interference" function management, allowing direct viewing and-or downloading to a flash drive. An additional function enables the recording of information concerning system and-or crane status.
Another French manufacturer of anti-collision systems is SMIE, which describes its ProSite system as being 'more than an anti-collision system'. The company Says its ProSite offering has high calculation capabilities that model in 3D the movements and positions of objects, enabling effective management. This can be for zoning or for site supervision, as all cranes with ProSite installed can be seen in real time on one screen.
The system uses up to three radio networks to ensure there are no external disturbances. A ten-inch LCD touchscreen provides the operator with a visualisation of their working environment. The systems automatically logs data and can be installed on laptops or tablets, if required. Working points can also be marked – enabling operators to return to the same location on the jobsite.
Information overload
According to Chris Machut at Netarus, in situations where the operator is in control, it is important to make the integration of information as seamless as possible.
"There is risk of information overload," he said, "so the presentation of the information is important. It is possible to integrate the video feed from a HoistCam camera into any crane OEM's computer screens. We have also partnered with RaycoWylie Systems to enable the HoistCam feed to be displayed within a single interface of their indicator displays."
Canadian crane monitoring system specialist Rayco Wylie Systems says it recognised the need to reduce the number of displays in the crane cabin around five years ago when it was developing its i4500 range of displays. "At that time, there were often four to five displays providing several different pieces of information and alarms, such as load moment, wind speed, camera video, working area limitation, collision avoidance, etc," explains JP Thomas, UK general manager at Rayco. "This creates a problem for the operator, who should be focused on the load being lifted. If the operator can't find the information needed easily or if several alarms are sounding at the same time, it creates difficulty for the operator to respond.
"The use of the i4507 as a single interface between machine and operator is a must so that the operator can choose to display the information needed at the time and keep other information in the background, appearing as a pop up or audible alarm if necessary. This allows the operator to stay focused on the task. "
Safe and productive
According to HoistCam, the effectiveness of cameras in allowing operators to make more informed decisions is not just reflected in increased safety; productivity goes up, too. "Operators tell us they experience a 10 to 50 percent increase in productivity with cameras, depending on the type of equipment and task, especially when working in the blind," says Machut.
Despite this Machut offers a warning that cameras are not a replacement for proper crane practices. "Cameras should be used in conjunction with hand or voice signals," he says. "There is a fine line between providing operator assistance (prevention) and taking control away from the operator (intervention). The human element, the operator, is irreplaceable even if you take the operator out of the cab and put him or her in a command and control station. Cameras provide information for operators to make informed decisions. With today's technology, they should not take the place of the skill, knowledge, and experience of the operator."
This is echoed by US company Scale and Control which started stocking BlokCam camera system earlier this year. "The BlokCam isn't meant to replace radio communication and other traditional safety measures, but rather provide an extra pair of eyes and ears to verify these measures and enhance other proven safety practices utilised in lifting," says Anthony June, marketing manager at Scale and Control.
With this in mind, it looks like there remains a place in the cabin for the operator no matter how advanced the technology around him is… for the immediate future, at least.
Views on risk
The litigious culture of the United States has hindered camera usage to the same extent that the operator aid is used in other countries, claims Chris Machut, chief technology officer at Netarus.
Despite the fact that cameras improve accuracy and reduce operational risk, risk managers may be swayed by insurance and legal communities fearing that it increases the employer's liability, he asserts. "Industry acceptance of cameras is not unlike the evolution of load moment indicator (LMI) systems in cranes 30 years ago," says Machut. "There was a time when the industry resisted LMIs because of the perception that the operator no longer had to know principles of lifting. Today, you won't find a crane without sophisticated control technology providing operators with tools to program and monitor nearly every aspect of the lifting scenario."