Operator assistance devices: Connecting the dots
By Christian Shelton13 January 2020
With the helping hand of technology reaching ever further into the fabric of our existence, cradling us in its palm and increasingly aiding us with different aspects of our lives, it is to be expected that there are many new digital crane operator assistance devices on the market. These come from crane manufacturers and independent specialists alike and are designed to make the life of a crane operator safer and easier. In this feature we will first look at some of the latest programs designed to aid operators; then we will look at two electromechanical load control devices that show, despite the progressively digital world we live in, advances in the electromechanical area of operator assistance technologies are still being made.
Starting in the digital realm, new from Florida, USA-based heavy construction industry software developer A1A Software are five web tools for task specific lift planning activities in the company's existing 3D Lift Plan lift planning program. The five tools comprise: Sketch Pad, which allows those involved in job bidding or lift planning to draw on screen using their finger to gather initial information for job estimates and to provide seamless documentation; Crane Comparison, which allows users to compare up to ten crane load charts at a time; Load Chart Viewer, which takes information in traditional load charts and presents them in a visual infographic presentation; Crane Loads Calculator, which allows users to determine maximum outrigger loads for the specific crane configuration without having to create a full 3D Lift Plan; and Mat Calculator, which allows users to select the appropriate outrigger pads or crane pads for the allowable ground bearing pressure.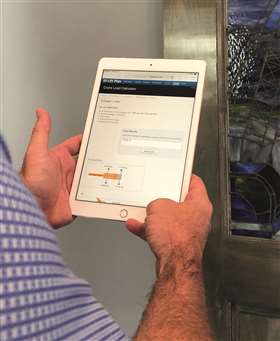 "These tools enable users to input or gather important lift planning information without creating a full lift plan," explained Tawnia Weiss, A1A Software president. "For on-the-go, in-the-field decision making, these web tools provide quick, accurate information accessible from a tablet or other mobile device that can later be integrated into a full lift plan."
Smart thinking
USA-headquartered crane manufacturer Manitowoc has also been developing its wireless lift planning offering with the launch of a smartphone app for iOS and Android devices designed to help crane operators determine the overall boom and jib length combination required for a lift.
The Manitowoc Boom Length Selector App allows users to input site information, such as building heights, boom radii and other parameters, using a sliding scale to determine the basic crane setup required for a specific lift.
John Alexander, director of all terrain crane service, mobile training and telematics at Manitowoc, said, "By simply entering a few details, the app immediately generates a setup for that specific lift. It is a great tool to use during pre-planning or on site to get the job done."
Japanese OEM Kobelco has also been developing its job planning software offering, working with German software specialist Cranimax to offer Cranimax's Cranebee lift planning software. Until now crane operators have been using Kobelco's KCross crane operating system to provide users with key operating information. The switch to Cranebee, however, should prove to be more convenient for its customers, said Tadano. Kobelco's European market cranes will be the first to come with Cranebee lift planning software.
Demag has launched its new IC-1 Remote cloud solution, which enables remote access and diagnosis of relevant crane data from any location. In technical terms, the IC-1 Remote system comprises a radio unit with a SIM card connected to a central cloud server where crane data is transmitted and stored. Via a web browser, authorised users can retrieve and process this data for crane and fleet management. The data can be accessed at any time and from any location and from any terminal device, such as stationary PCs in offices, mobile tablets or smartphones. It is also possible for the manufacturer's customer service to provide support services via IC-1 Remote.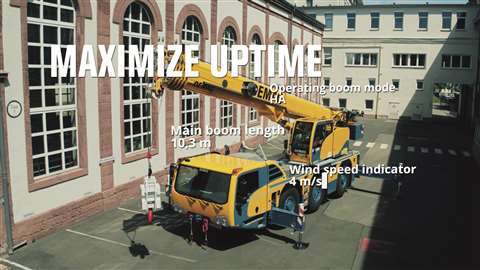 Demag's IC-1 Remote enables remote access and data diagnosis from any location
Load cell manufacturer Straightpoint has launched an updated wireless centre of gravity software called Insight. The program is designed to be used with large capacity load cells and allows users to quickly report weight and centre of gravity before the lift when moving heavy items such as jackets, topsides, skids and other support structures offshore. David Mullard, business development manager, Europe, Middle East and Africa (EMEA) at Straightpoint, said, "The new and improved software is faster, easier to use, and far more graphical than its predecessor. Knowing the weight distribution of heavy items is essential before they are lifted offshore."
Load control
Away from the digital world of software, electromechanical operator assistance devices are being developed, with two new electromechanical operator load control devices on the market.
The first is the EMT from German engineering specialist Ematec. EMT stands for Ematec manipulation traverse, which is designed to help position and stabilise loads up to 250 tonnes. The EMT goes between the crane hook and the load. At both ends the EMT has telescopic extensions with 65 metre long RUD chains which are attached to the roller block of a guiding rope of a crawler crane or, alternatively, to concrete blocks on the ground. Two independent chain drives allow loads to be precisely manipulated and stabilised during lifting, positioning and assembly. According to Ematec, the EMT can be manipulated up to a rotation of +/- 75 degrees.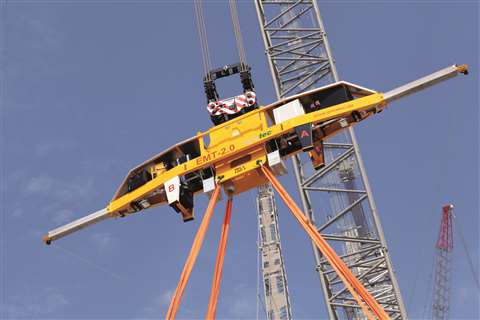 The chain drives are operated by radio remote control in touch-control mode and their use eliminates the need for a guide rope to be physically pulled to adjust the load. Ematec says using the device means that the force flow is 1:1, as all force is transferred directly to the load. A display indicates the forces on the traverse at all times so that the operator knows where and when to readjust. In addition, Ematec says that the manipulation traverse is wind resistant, meaning it can be used in any weather.
Various adapters for a wide range of applications are available. These include eye adapters, hook adapters and flange brackets.
A key application area for the EMT is the assembly of wind turbines and the EMT system family currently includes four adapters that have been specially designed for this. One adapter is intended for mounting a rotor blade to the hub, one adapter for mounting a complete rotor star for star installation and one adapter for the nacelle and the generator. The product range is rounded off by a universal adapter for the lifting of various loads up to 100 tonnes with lifting belts or other lifting devices. The system, including adapters, is delivered in a 40-foot open-top container.
On-site insight
"We got the idea for our new traverse on the construction site when mounting rotor blades with a rotor blade lifter developed by us. This is done in a quick and efficient way. However, for each additional component of the wind turbine that had to be lifted up, there existed a separate gripping and assembly tool. The effort was enormous and the setup times were considerably exceeding the actual mounting costs. That was when we came up with the idea of developing a flexible traverse fixed to the crane hook and to which various adapters could be attached and exchanged in a quick and easy way," explains Manfred Eberhard, CEO of Ematec.
The second new electromechanical load management system is the R-series from Australian lifting and rotation management specialist Verton. The remote-controlled system is also designed to eliminate the need for human held taglines to control suspended loads. In its most basic format the system comprises a single pair of gyroscopic modules and a handheld remote controller that work to orientate the load. The system is available in various models and can handle loads of up to 20 tonnes, although Verton says that gyroscopic modules can be multiplied making the R-series scalable to any load. The system can connect to onboard telemetry so operators can use a phone or tablet to monitor loads. In addition, loads can be lifted from and delivered to GPS coordinates.
Australian crane hire company Universal Cranes was the first company to start using the R-series earlier this year. Verton also received funding from the Queensland government's Business Development Fund (BDF). The R-series also won a 'best in class' award in the engineering design category of Australia's Good Desin Awards.
The R-series has now been launched in the UK, too, with Verton demonstrating the system to civil engineering company Sir Robert McAlpine and another demonstration at the Thames Tideway Tunnel project in Wapping, London.
Verton said that, as well as construction companies, the R-series has received interest from mining, port and shipping operators. The company has also established a partnership with international heavy lifting and transport specialist Mammoet and wind turbine supplier Vestas to further develop a new, safer lifting method for installing wind turbine blades.
Verton managing director Trevor Bourne said, "The R-series is a remote-controlled load management system which Stan Thomson invented and it is revolutionising the world of lifting operations. With the R-Series workers will thankfully no longer be near or under moving loads, reducing accidents and fatality rates in crane operations."
A video of the R-series in action can be seen here: https://bit.ly/2OkkuUX
With the R-series Verton claims it is simply 'taking a principle of physics taught at school and connecting it to the 'Internet of Things' and it is this idea of increasing connections – between mechanical, digital and human elements – that appears to be the future of the operator assistance sector.
Automated reporting
Scotland-based lifting equipment provider Scottish Crane and Engineering Services has started using CheckedOK software from RFID software specialist CoreRFID.
According to CoreRFID its CheckedOK solution enables faster, more streamlined and cost-effective LOLER inspections, risk assessments, method statements, service and repairs. Munzi Ali, technical director at CoreRFI, says, "CheckedOK delivers greater operational speed and accuracy than paper-based systems can offer. Crane operators and suppliers which automate their reporting systems give themselves a real competitive advantage with quantifiable improvements in operations."
CheckedOK was first developed 10 years ago, and has been the subject of on-going investment and development to meet new industry and regulatory requirements. In Ireland alone it has generated over 4 million inspection reports to date.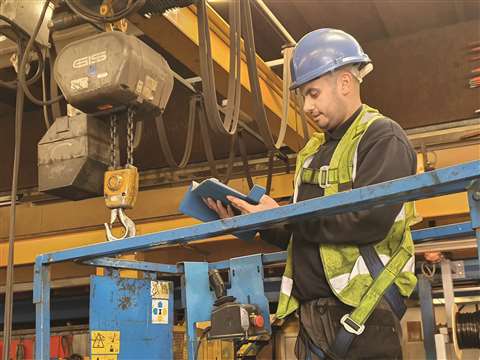 Scottish Crane engineer Andy Marshall using CheckedOK onsite. CoreRFID says using CheckedOK offers greater operational speed and accuracy
Out-of-the-cab thinking
German crane rental house Salgert has taken delivery of two new Liebherr LTC 1050-3.1 compact cranes. These are the first cranes to have RemoteDrive – a feature that allows the crane to be operated via remote control from outside the cab. This is particularly advantageous for crane operators working on congested sites, Liebherr said, as it enables the operator to obtain a better view of their work.
Wolfgang Salgert, managing director at Salgert, says, "Our LTC compact cranes perform 70 per cent of their work in constricted industrial buildings. This means that we face situations every day where the crane operator cannot see the whole picture. RemoteDrive enables the crane operator to stand in front of the crane and manoeuvre it safely through constricted access routes."
Liebherr says it developed the technology in response to feedback from customers who said they would use such a function on their cranes at least several times a week. Liebherr also says its customers said, given a choice, they would prefer to use a remote control system over using a camera system.