Operator training: efficient learning
By Christian Shelton30 April 2019
Crane manufacturer Liebherr runs mobile crane training courses at its Ehingen, Germany-based training centre and at a number of locations around the world. Its ten-day course is well-established, having run since 2008. Five days of the course are dedicated to mobile crane theory, while the other five days cover practical crane operation skills. The company says, however, that in response to growing demand, it has developed a new e-learning program, available in English and German, that makes access to its theory training far easier. It hopes this will facilitate the greater take-up of theory training and therefore, through increased understanding, increase the safety of crane operations around the world and possibly even establish an international theory training industry-standard in the process.
"We found that some mobile crane operators knew how to operate a crane but they didn't necessarily understand exactly what they were doing or why they were doing it," explains Sascha Brenner, head of training at Liebherr. "We wanted to address this problem directly with the development of our e-learning program."
To achieve this Liebherr collaborated with e-learning production company Krassmann Produktion and lawyer Dr. Rudolf Saller to create an 18-chapter cloud-based program covering all aspects of mobile crane theory. The program is not Liebherr-specific, so the lessons learnt can be applied by all crane operators, whatever crane make they are using. Being online also means the program can be accessed from anywhere in the world, at a time convenient to the user.
Each chapter takes between 20 minutes to one hour to complete, depending on how fast the person taking it is. On average the whole course takes between 18 to 20 hours to complete, says Liebherr. "The beauty of the e-learning system is that it enables users to progress at their own pace, ensuring that they really understand the information they are being taught," qualifies Werner Fackler, technical author at the Liebherr Training Department. "They can access the program using a personal access code and study the chapter they want, in their own time and repeat them, if necessary, before moving on to the next chapter." Users can also jump between chapters at will, if they have bought access to all 18.
Within each module, key information is displayed as on-screen bullet points. Interactive learning elements - such as embedded video, moving items on the screen using the mouse, and an audio function in which the computer reads information out aloud – are designed to aid various styles of learning and further increase the effectiveness of the training. For users that are not familiar with using computers, the program even includes simple instructions on how to use it. A technical help-line is also available.
At the end of each chapter there is a short, four-question test. The questions are taken from a large pool of possible questions. If the answer given is incorrect, the right answer can be revealed – so that users can learn from their mistakes. Every time the test is retaken the question pool is shuffled.
Once the test questions for all 18 chapters have been passed, there is a final test comprising 50 multiple questions selected at random from a total of 220 questions covering all the chapters. If this is completed successfully, an official Liebherr training certificate can be printed immediately. Practice tests can also be undertaken, if desired.
"The program is very thorough," says Brenner. "It's designed to be intuitive and being online means the technical content is always up-to-date. In order to pass the final test crane operators must have fully understood what they have been taught. The official certificate makes it the e-learning program useful as a tool for crane operators who want to complete their annual guidance duties – which is a legal duty in Germany."
As well as increasing the effectiveness of learning, Liebherr believes the cloud-based training system will also appeal to crane companies who use its existing training courses, too. "The remote nature of the e-learning program means that crane operators can complete the module at home rather than spending the week in Ehingen or at one of our other training centres," says Brenner. "This means they are potentially available for an extra week of work. In addition, companies could use the program as a test when recruiting staff to see exactly what level of crane theory knowledge they have."
Reaching out
Liebherr has high hopes for its e-learning system, stating that one of the main reasons it developed the program was in response to growing demand for training and regular statutory guidance around the world. The flexible nature of the software makes it relatively easy to add further content and Liebherr said that, if there was enough demand, it would look at making the program available in additional languages.
When the e-learning concept was first revealed by Christoph Kleiner, managing director sales at Liebherr-Werk Ehingen, at the World Crane and Transport Summit in Amsterdam at the end of 2017, he said, "We want to reach out internationally. At present, when crane operators complete our courses at Ehingen, or elsewhere, they are issued with a certificate which is currently accepted in Germany, Austria and Switzerland. However, we want to raise the knowledge level of crane operators around the world, to reach those that can't practically attend our training courses in person. And although there are various initiatives around the world, we don't currently have a common standard in training crane operators – not even at a basic level."
Indeed, Liebherr developed the program in consultation with the German health and safety association and is keen to work with other standards agencies. "We want to support all existing initiatives," Kleiner emphasised, "such as the NCCCO programme in the USA and ECOL here in Europe. It would be great if we could support these initiatives with quality, independent training; and in this way, perhaps our e-learning program can provide a suitable structure through which to establish an international training standard accepted by all the industries we work with."
Liebherr's e-learning program
Liebherr's e-learning program comprises the following 18 modules:
Introduction
Cranes in general
Legal regulations
Components and technology: chassis
Components and technology: superstructure
Crane physics
Load charts
Safety systems
Preparation for crane operation
Choice of crane location
Crane rigging
Lifting and wind
Special operating conditions I
Special operating conditions II
Fastening of loads
Load lifting devices
Crane inspections
Behaviour in case of malfunction.
As well as designing its e-learning program to be easy to use, Liebherr has simplified the purchase process. Companies can buy annual unlimited-use group licences for €2,300, while individuals can buy use of all modules for six months for €495. Both companies and individuals can buy single chapters for between €35 and €49.
Simulators
The power of technology for is being used to aid training in other ways, too. One area of growth is the use of training simulators and the nascent sector looks to have a promising future.
In this fast-growing area, French virtual training and learning solutions provider Acreos has collaborated with French anti-collision and zoning systems specialist AMCS Technologies to develop a crane simulator called the SIM 61.
According to AMCS, the SIM 61 is highly advanced and can recreate particularly realistic working environments. Different locations can be selected, including a cityscape, a shipyard, and the desert. The size of the job site can also be set, as well as the type of cranes being used – including tower cranes, luffing jib cranes, and mobile cranes. The buildings displayed in the job site simulator can also be manipulated, allowing users to change the number of floors a building has or even its shape. A wide range of crane load scenarios can also be recreated and the system can even simulate the effect of the wind.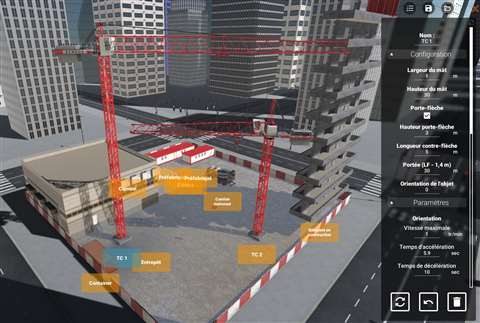 Via a hard-wired connection (CAN communication network), the simulator uses the DCS 60 and DCS 61-S anti-collision devices from AMCS to recreate crane sensor data inputs, including slewing, trolley and travelling information.
The anti-collision system's datalogger can provide useful analytical data to learn from when students review their performance using the simulator, AMCS adds. It also has the benefit for AMCS that future generations of crane operators will know how to use its anti-collision systems.
In the UK, levy-funded training and operator standards body Construction Industry Training Board (CITB) has successfully integrated simulation-based training into its existing training processes.
It says this results in increased student practice time, reduced costs, and better reporting of skills development and qualification readiness.
Since CITB started, it has trained more than 500,000 apprentices in a wide variety of construction careers. The CITB is also responsible for maintaining qualifications and standards for the construction industry in the UK, including the Construction Plant Competence Scheme (CPCS) certification.
CITB purchased six Vortex Simulator units, developed by Canada-based simulator vendor CM Labs Simulations, complete with training packs for excavators, crawler cranes, mobile cranes, and tower cranes, and four signalperson training stations. Housed in a purpose-built training building and run by dedicated simulator technicians, the simulators have become a fully integrated component of CITB's training programme.
No limitations
According to Chris Bushell, CITB curriculum manager, students are able to get as much as 40 % more practice time at the controls because simulators do not suffer from the same down-time that's associated with using live equipment, and training isn't limited during winter months.
Likewise, students are able to focus on specific tasks and skills, and trainers can vary equipment configurations in ways that are too cumbersome to do with live equipment. An integrated reporting system that tracks student progression through the curriculum is designed to aid students' preparation for the CPCS exam.
CITB reports that integrating Vortex simulators also improves its student-to-instructor ratio, increase the availability of training, and reduce fuel consumption costs and related carbon dioxide emission (by not using real machinery for training purposes).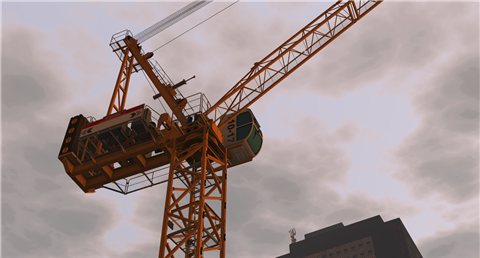 "Beyond the practical benefits for students and the training organisation, CITB has also discovered that their Simulator Lab is an excellent marketing tool," adds Drew Carruthers, construction simulator product manager at CM Labs Simulations. "It has increased CITB's visibility in the heavy equipment training marketplace, and its clients are now specifically requesting simulation training."
The point made by Bushell regarding simulators enabling training to continue, no matter the outside weather conditions, is highlighted by Local 158 District 106 in Albany, New York, USA – a place with long, cold winters. Local 158 District 106 represents heavy equipment operators, mechanics, and surveyors in upstate New York's construction industry, as well as stationary facility maintenance engineers who work inside buildings. After buying one of CM Labs Simulations's Vortex simulators with software for training excavator, rough terrain crane, crawler crane, and flat-top tower crane operators, it can now train students throughout the winter.
"It's opening up new training possibilities, and resulting in faster, more effective training for apprentices," explains Bill Gray, training director for Local 158 District 106. "You're not just putting them in a piece of machinery and hoping for the best. On the Vortex simulator, you get immediate feedback from the instructor. The turnaround time of learning is half of what it was."
However, the rise of remote and virtual training is not at the expense of traditional training techniques, as Brenner from Liebherr points out, "Our e-learning program is designed to make the theory side of things more accessible and to facilitate its learning. However, operators still like to come to our training centres for the practical training, to really see what we do and how we operate."
In the USA, Atlanta, Georgia-based Crane Industry Services (CIS) opened a new 8,892 sq. ft. training centre in Carrollton, Georgia, in 2018. CIS's says its primary focus is training and certification for the crane and rigging industry as well as promoting careers in construction to students.
The CIS facility has multiple training rooms, an NCCER testing centre, a simulation room, land for crane training and two warehouses for hands-on training. "This facility allows us the space to offer skills training in welding, electrical, millright, and carpentry, as well as rigging and crane operation," says Debbie Dickinson, CEO at CIS. It also enabled CIS to offer assessment and training after hours and at weekends.
As well as the new training centre, CIS now offers training for employers who need to qualify individuals to do crane operator evaluations, according to new OSHA requirements. In addition, CIS staff can provide third-party crane operator evaluations to assist companies who need extra help getting these done.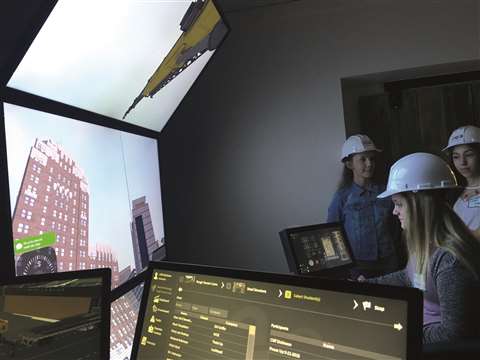 CIS provides training and certification as well as promoting careers in construction
One of the most traditional training techniques, the apprenticeship, is also making news. In the UK, a trailblazer working group has been set up to develop an apprenticeship standard for the lifting industry. The group was assembled by Baz Trewhella, project specialist at the Lifting Equipment Engineers Association (LEEA), following a consultation campaign and comprises employers representing a variety of fields within the lifting industry.
The group has already met once and identified a maturing work force and a general skills shortage as being common challenges that can be addressed through the creation of an occupational standard apprenticeship.
In the USA, a skills shortage has also been identified as potential threat to the lifting and transportation industries by international trade association the Specialized Carriers and Rigging Association (SC&RA) and Lift and Move USA – an industry-led initiative promoting careers in the crane, rigging and specialised transport industries. Both SC&RA and Lift and Move USA have held events to address the skill shortage and the SC&RA also provides a wide range of training literature and videos, available to members for a discounted rate. For more information, see www.scranet.org/store
"Lift & Move USA provides an authentic way for students to connect to learn about skills needed and careers available in this industry," commented Jennie Fennelle, senior advisor in the Center for School, Family, & Community at Education Northwest – a private non-profit organisation that promotes education in the north west region of the USA. Fennelle was speaking after a Lift & Move USA event hosted by crane rental company NessCampbell Crane & Rigging in Portland, Oregon, in 2018. "There's nothing like getting to stand next to a 500 tonne crane that puts learning in context for the student," she said.
Transport training
In the UK, demand for specialized transport and lifting training is high, reports UK truck loader industry trade association ALLMI. At the end of 2018 it reported a year to date increase of nearly 20 % for its slinger and signaller training levels. "We're extremely pleased to see a further increase in demand for this course, which follows a 22 % rise in uptake during 2017," says ALLMI technical manager, Keith Silvester. "ALLMI has long been promoting the importance of slinger and signaller training and raising awareness of the problems that can occur when this is neglected. Whilst there is a growing acceptance of this message throughout the industry, we will, of course, continue to drive it, as some employers still believe that putting their staff through a lorry loader operator course provides them with a sufficient level of skill, knowledge and understanding to act as a slinger, which is not the case. Specific training should be undertaken in order to be proficient in this area, and this is a requirement under the Health & Safety at Work Act, PUWER and BS7121 Part 4."
ALLMI is also launching a new website that will include a verification function, allowing users to confirm the validity of a cardholder's ALLMI qualification. The website will also include a 'tools' area that will see some of the ALLMI app's calculator tools redeveloped for desktop purposes. The website will also include a careers area, aimed specifically at promoting careers in the lorry loader industry to young people, as well as facilitating their contact with ALLMI member companies and providing information for educators and careers advisors. The ALLMI app is also being updated with a number of new tools including tools for Thorough Examiners, which cover overload test, sink rate and stability test load calculations, as well as RCI / RCL calibration and safety system requirements, and a pre-use checks tool for operators.
The various examples referenced in this article illustrate that traditional and emerging ways of training can work side-by-side. And the more effective the training is, the safer the job site becomes – which is a good thing for everyone.
Enforcement of documentation requirements delayed
In the USA, the Occupational Safety and Health Administration (OSHA) has announced it is delaying full enforcement of its requirement for employers to evaluate their crane operators.
Scott Ketcham, OSHA acting director of the Directorate of Construction, said that OSHA has received feedback from the construction industry indicating some employers may need more time to document evaluations of crane operators prior to the February 7, 2019, effective date.
During the first 60 days of enforcement (until April 15, 2019), OSHA will evaluate good faith efforts taken by employers in their attempt to meet the new documentation requirements for operators of cranes used in construction. During this period, OSHA intends to offer compliance assistance, in lieu of enforcement, for those employers who have evaluated operators in accord with the final rule and are making good faith efforts to comply with the new documentation requirement. If, upon inspection, it is determined that an employer has failed to make sufficient efforts to comply, OSHA should cite for that deficiency.
This temporary policy applies only to the documentation requirement. OSHA is fully enforcing the requirement that employers evaluate their operators before allowing them to operate cranes independently.
Forms required to evaluate crane operators are available from: www.scranet.org/OSHA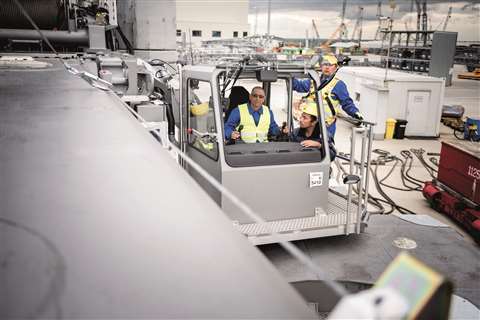 Liebherr also operates practical training and says trainees enjoy attending its courses
Liebherr-Australia apprentice award
Liebherr-Australia has awarded Oliver Powell with its National Apprentice of the Year award. Powell also received the NSW Regional Apprentice of the Year award. Liebherr also offers congratulations to the Regional Apprentice of the Year Winners Zane Hazzard (WA), Brett Hamilton (QLD), and Daniel Bugeja (SA).