Optimism dips in Polish construction market
By Joe Malone25 October 2016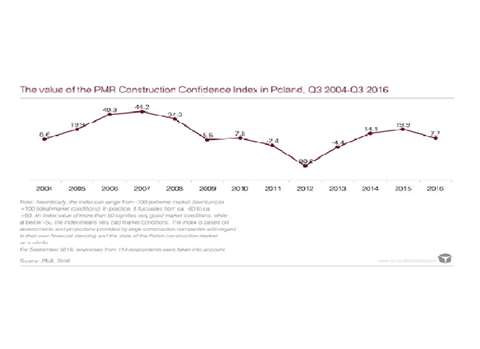 Optimism in the Polish construction market has dipped following a slowdown in construction projects, according to research firm PMR.
Its report, titled Construction sector in Poland H2 2016 – Development forecasts for 2016 to 2021, said the confidence index for the Polish construction market stood at 7.7 in September, which was down from 19.9 in 2015.
The index fell in all three segments of the construction market – residential construction, non-residential construction and civil engineering – with the most severe decline coming in non-residential construction.
The index was at its lowest for civil engineering companies, which reported a significant decrease in projects by local authorities.
PMR did report, however, that companies had higher expectations for 2017. It said it expected a spree of "intensive spending" of EU money next year.
It said a record level of expectation for the future was recorded in residential construction, which was driven by a growing number of flats sold by developers, as well as a number of contracts secured for multi-dwelling buildings.
PMR said that contractors intended to take advantage of the slowdown in activity, in order to be prepared for the forthcoming market upturn. It said contractors were taking measures which they believed would give them a competitive edge. These include taking action to obtain new domestic orders, submitting bids in a larger number of tenders and expanding into new markets.
The report also found that companies had invested more time and money in company management and human resources. Also, one in every ten companies made acquisitions in an attempt to enter into new markets.