Osaka bridges benefit from Barin
By Euan Youdale01 September 2016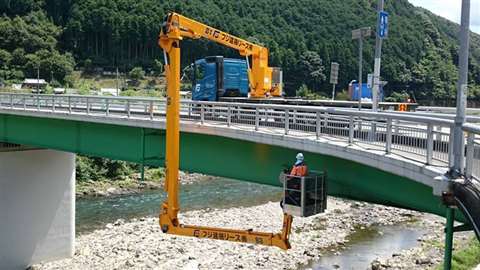 Japan-based Fuji Kenki Lease has rented a Barin AB1400 bridge maintenance unit to inspect bridges in the Osaka region.
Assembled in Italy on a Volvo FH420 6x2 RHD truck chassis, suitable for the Japanese market, the bucket-type machine has a 3.78m maximum height in transport position in compliance with Japanese rules.
The machine is fitted with a 14m horizontal boom and load capacity of 250kg in the bucket. It has a vertical reach of 16.2m with third boom extended all the way down.
The equipment enables Barin to carry out remote checking of the machine's electronics from the factory and is able to adjust parameters.