Oshkosh partners with second robotics firm
By Lindsey Anderson26 April 2022
Oshkosh Corp., parent company of JLG Industries, Inc., has partnered with Robotic Research, a global provider of autonomous mobility solutions.
The companies began working together in 2017 on autonomy programs for the U.S. Department of Defense⁠, Oshkosh said, and will move forward to jointly work on new autonomous vehicles and equipment.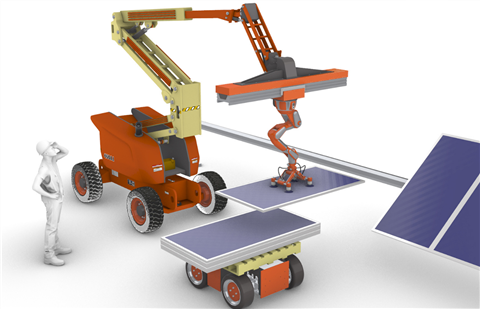 "With this strategic partnership, we position ourselves for continued growth within these critical and groundbreaking technologies," said John C. Pfeifer, Oshkosh Corp. president and CEO. "Together, our work will provide our customers with robust and functionally safe solutions along with a clear path to production that is unmatched in the industry."
The partnership with Robotic Research comes just three months after JLG and RE2 Robotics announced a newly formed alliance to design and produce a remote-controlled aerial lift – with no basket – to install solar panels.
RE2 Robotics, a developer of autonomous and teleoperated mobile robotic systems for use in the aviation, construction, defense, energy and medical industries, was acquired by Sarcos Technology and Robotics Corporation on April 25, bringing together two of the leading commercial robotics teams.
"The productivity imperative, along with the Covid-19 pandemic, has accelerated the need for, and adoption of, robotic technologies beyond the factory floor," said Frank Nerenhausen, Oshkosh Corp. executive vice president and president of JLG. "In fact, a large focal area in construction and industrial applications today is remote operation of equipment that keeps workers out of harm's way. The combination of Sarcos and RE2 brings together two leading robotics companies working to accelerate the implementation of robotics and move the access industry forward. We look forward to building on the excellent progress we have already made in partnership with RE2."