Osprey delivers 500 tonne reactor to Hinkley Point
By Alex Dahm06 March 2023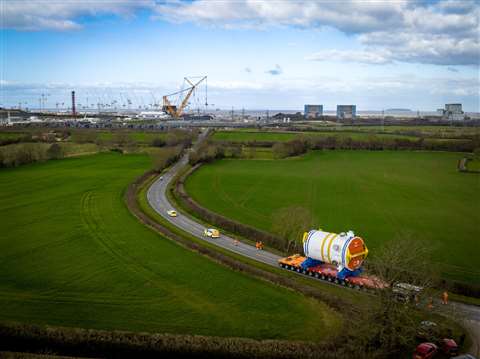 The first of two nuclear reactors was delivered in February for the Hinkley Point C nuclear power station under construction for energy company EDF in the United Kingdom.
Following a journey by sea from France, where it was built by Framatome, the reactor arrived in the UK at Avonmouth Docks in Bristol, in the south west of England. It was then taken by barge to Combwich Wharf on the River Parrett in Somerset.
Final leg of the journey
Next was the final leg of the journey, a five hour overland trip of 4 miles (6.5 km) to the construction site. It was completed by Osprey Group using Scheuerle Generation 3 and Generation 4 self propelled modular transporter (SPMT). The reactor pressure vessel is 13 metres long and weighs 500 tonnes. The SPMT was set up in 4 file, 16 axle configuration, with two side by side columns of 16 axle lines for a total of 128 wheels. Two Z350 PPU (power pack units) were used, mounted at the rear, for traction.
Installation will be in the reactor building after the dome has been lifted in. The reactor creates the heat to make steam, for what will be the world's largest turbines, EDF said. The last nuclear reactor delivered in the UK, also made by Framatome, was for the Sizewell B station which began operating in 1995.
The second of the two reactors will be handled and transported in the same way as the first one.