Out of danger: radio remote controls
Radio remote control is the perfect tool to assist with the need to comply with social distancing as a result of the global Covid-19 pandemic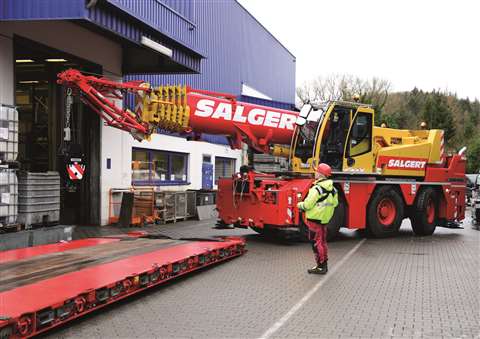 In light of the global Covid-19 pandemic, the idea of maintaining a distance to help ensure safety is a pertinent issue. In a construction context, the safe distance principle is already effectively used by crane and transport equipment manufacturers. Specialist remote control systems manufacturers, with their high technology products enabling operators to work away from jobsite danger zones, have been refining this for many years. Product development continues apace as the remote control industry makes the most of advances in technology and contributes advances of its own.
A case in point is the new RemoteDrive from crane manufacturer Liebherr. RemoteDrive is a development of the company's Liccon2 crane control system, which was launched in its first version 13 years ago.
Liccon has always enabled the remote set up of Liebherr cranes using the BTT mobile control and display unit, the company says. According to the OEM, Liccon2 has long had the capability to operate the crane's superstructure functions via remote control. This is achieved by installing the relevant software on the crane and connecting the BTT mobile control and display unit to a console with two master switches.
The new RemoteDrive development, however, means that – for the first time – the crane's chassis can now also be operated from outside the cab by remote control.
Chassis control
Liebherr's 50 tonne capacity LTC 1050-3.1 compact crane is the first machine on which this is possible and Liebherr says that ensuring co-ordination between the remote control and moving the crane with millimetre precision was a key objective for its engineers and software experts.
Aside from the safety benefits this offers, one end user of the new system has found it also offers benefits in terms of manoeuvring the crane, particularly when space is severely restricted. German crane and transport rental firm Salgert took delivery of two LTC 1050-3.1 compact cranes equipped with RemoteDrive. Wolfgang Salgert, the company's managing director, says, "Our LTC compact cranes perform 70 per cent of their work in constricted industrial buildings. This means that we face situations every day where the crane operator cannot see the whole picture. RemoteDrive enables the crane operator to stand in front of the crane and manoeuvre it safely through constricted access routes."
This manoeuvrability was put to the test by Salgert on a job at a specialist aluminium die-casting company in Bad Münstereifel, Germany. Several machine tools had to be relocated in a production building and others had to be installed at the site, which supplies the automotive industry. Access was particularly tight and the job had to be carried with minimal disruption.
Salgert crane operator Tony Gölitzer outlines the challenges, "The difficulty was that the machines had to be moved in a constricted, low building which already contained other machines and production could not be stopped. RemoteDrive enabled me to stand right next to the problem area so that I could manoeuvre the crane safely through the constriction. The door was narrow and low and we had installed the short erection jib. That meant I had to watch it pretty closely."
The entrance to the die-cast facility was also very small but this did not pose much of a challenge, says Liebherr, as the LTC 1050-3.1's compact size means it can pass under doors and gates as small as 3 metres in height. Liebherr states that Salgert completed the machine relocation quickly and without any problems, aided by the crane's VarioBase variable support base. VarioBase was able to support the crane between the existing machines in the factory with the outriggers only partly extended. In addition, the LTC's ability to telescope heavy loads with the boom and to drive with the load on the hook were also utilised.
Liebherr says it developed the technology in response to feedback from customers who said they would use such a function on their cranes at least several times a week. Liebherr also says its customers said, given a choice, they would prefer to use a remote control system over using a camera system.
Latest products
Although some crane OEMs develop their remote control systems in-house, many rely on the services of specialist remote control manufacturers. Competition is fierce in this field and these companies are continually developing their product lines.
The latest development from Swedish manufacturer Scanreco, for example, is its updated G2 G3 range, which has been available since March 2020.
The G2 G3 range is one of Scanreco's key product lines and was first launched in 2008. In 2016 the company added a 4.3 inch (100 mm) colour display as an option to the transmitters. Now, it has launched a package of different updates to ensure that they stay relevant for many more years to come.
The G2 G3 radio receivers now use a 2.4 GHz frequency band which Scanreco says limits the need to use different frequency bands, regardless of where in the world it is used. In the past, the products were offered with 433 MHz for Europe, 915 MHz for North America as well as other national frequency bands on different markets.
Scanreco says the higher bandwidth 2.4 GHz technology means more data can be transferred in a shorter period, thereby reducing the duty cycle. This also reduces the power consumption of the transmitters, giving the operators approximately 50 percent longer operational time per charge of the battery, Scanreco claims.
The increased bandwidth also boosts the update rate of the graphics in the 4.3 inch color display by a factor of four, allowing for more advanced graphics to be presented to the operator without any delays. The combination of several different technologies in the 2.4 GHz radio protocol also allows more radio systems to co-exist in a confined area without interference, the company says. These technologies include clear channel assessment (listen before talk), low duty cycle, signal filtering and broadband technology.
New features
Another new feature is the ability to combine the hand-held Rocket Flex transmitter with 14 push buttons and a belly-pack transmitter with joysticks on the same application. A 'catch and release' function is available, designed to provide more efficient and safer operations. Scanreco says this is especially helpful for crane operators moving goods in areas with reduced visibility or, for example, from ground to roof top where a second operator can catch the control and continue the lifting safely.
For the Mini transmitter, Scanreco has launched a new series of ergonomic and fully proportional joysticks. The joysticks are available in three different versions: a basic 2-axis joysticks, a 2-axis joystick with a push button on top of the handle; and a 3-axis joystick. All offer accurate precision control of machine movements, Scanreco claims. With a left and right 3-axis joystick, an operator can control six machine movement simultaneously all at individual speeds, and without having to change or move the grip of their hands.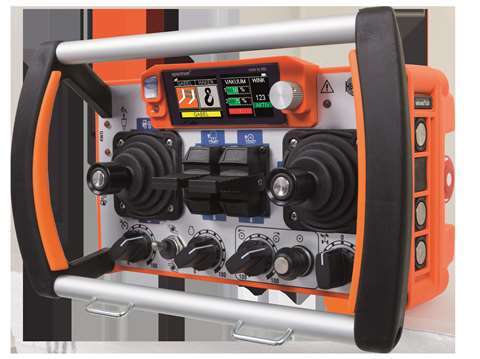 The most recent development to the product line-up of HBC-radiomatic, the Crailsheim, Germany-headquartered radio remote control equipment manufacturer, is a new generation of its Spectrum controller series. The Spectrum 4 is for the wireless control of cranes and machinery and, although it may look the same as other Spectrum models, it has a host of new features, the company claims.
These include a new transmitter, updated radio technology, colour displays, additional category 3 PL d safe commands (to EN ISO 13849-1:2015 standards), new batteries with longer running times, continuous power supply for battery exchange without work interruption, a shock-off/zero-g/inclination switch, the safe release of operating elements by HBC's 'touch to activate' system, and an integrated flashlight and LED front panel lighting for low-light applications.
The Spectrum 4 has the capacity for more than 100 control commands and HBC-radiomatic says there is enough room for all different types of operating elements, which can be customised by means of individual configuration. The remote control can be protected from unauthorised use and there is an emergency stop function. It has an auto power off and an automatic deactivation of movement functions if it is not used for over five minutes.
"The spectrum 4 offers a wide selection of additional features as well as powerful batteries that make it the perfect solution for large equipment," says Toni Bluemlein, office manager and marketing co-ordinator, HBC-radiomatic Inc, in the USA. "The new spectrum generation will continue the success of our best seller, which was started more than 30 years ago."
Remaining with HBC-radiomatic's Hebron, Kentucky-based location in the USA, in September last year the company celebrated the completion of the 13,000 square foot (1,200 square metre) expansion of the facility. According to HBC-radiomatic the expansion provided the warehousing and operational space to more than double the throughput from each of the company's key departments. It also built several additional service and repair islands and system assembly and production islands, plus a new product showroom.
Commenting on the expansion, Jeff Allan, CEO at HBC-radiomatic Inc., says, "As the market demand for HBC's radio controls has continued to strengthen, the primary purpose of our expansion was always to improve the responsiveness and flexibility for the growing needs of our valued partners and users. And while the construction programme created some natural disruptions to the company's operations, the Hebron team applied a tremendous amount of extra time and effort to reduce those effects on our customers. Today, we are completely focused on optimising local production, expanding technical support and services, and now have the infrastructure and resources to support these goals.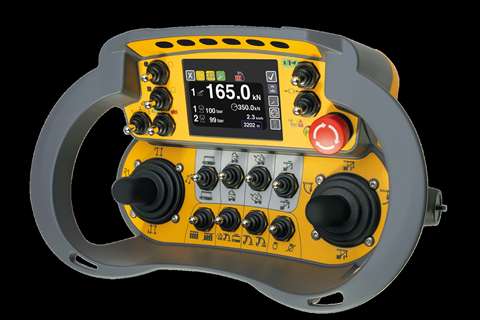 T series transmitters
The latest remote control transmitters from German remote control system manufacturer Abitron include the T series and the TGD-8 pushbutton type. The T series comprises the T3, T5 and the T7.
The T3 is the smallest offering in the T series and it includes select key switches, stop switches, toggle switches, pushbuttons and joysticks with digital or analogue functions available. A range of information sources, such as LED displays and graphic displays, are also possible.
The T5 has a larger housing that allows it to accommodate a wider variety of controls. For the first time, Abitron's newly developed GDC 3.5 colour graphic display is available for this transmitter, which can be programmed by the user. The T7 transmitter is the largest transmitter in Abitron's newly designed T-Series and can accommodate a colour graphic display with optional video feedback up to 4.3 inches.
The TGD-8 pushbutton device has eight two-stage pushbuttons and the toggle switch that can be customised. If specified, up to six multi-coloured feedback LEDs are available to comprehensively display crane's status.
Tandem crane control
USA-based Columbus McKinnon Corp, a designer and manufacturer of motion control products and services for material handling applications, has announced the availability of new CE compliant Magnetek brand tandem crane radio remote control system for Europe, the Middle East, and Africa (EMEA).
Columbus McKinnon says the system is easily programmed and well suited for when two crane systems are operating in conjunction.
Compliant with EN15011 and EN7121 standards, the tandem crane radio remote control system has a self-adjusting movement function that the company says enables a single user to easily control two cranes, with both crane movements operated via one transmitter. If a fault is detected the system halts motion on both cranes to prevent possible damage or injury. Once the fault has been cleared, safe operation can resume.
The IP66-rated Flex VUE transmitter, included with the system, provides two-way communication and an LCD screen displays status and diagnostic information such as battery life, signal strength and warning signals. Easy-to-access system status information eliminates the need for in-depth inspection and enables planned maintenance to minimise downtime, Columbus McKinnon claims.
Radio Control Programmer (RCP) software is also available. This, the company says, allows for simple transmitter and receiver programming. RCP also assists with customisation of key parameters such as RF channel and access codes, along with real-time status and diagnostics information shown on the transmitter display, to best fit application needs.
"We combined superior performance with ease of use into this cost-effective package that is unique in the marketplace," comments Norm Davis, product manager for radio controls at Magnetek. "Incorporating advanced, reliable, two-way communication that informs operators of system status, Tandem Crane Control Systems help improve facility safety and efficiency."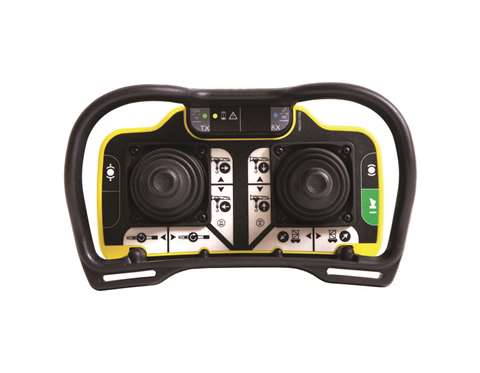 Waist belt options
Italian radio control manufacturer Imet has a new compact line of waist belt transmitter remote controls, called the ZED line. Despite its small size, Imet says the control panel can fit single-axis and biaxial joysticks and users can add selectors, buttons and potentiometers.
There are two models in the ZED range, the M880 ZED B and the M880 ZED NJ, and they share a number of features. These include adaptive frequency agility (AFA), where the devices continuously search and select the best channel to transmit on. The response behaviour of single joysticks may be calibrated directly via radio, thus customising the speed of crane motions. Access to this is protected by PIN code. An event log records all events that lead to failures or unexpected stops, as well as the operating hours of the device. The transmitters also have a new self-locking button with double reset system, in accordance with European and international safety standards. A wide range of selectors, buttons, switches and potentiometers are available for both models.
In addition, the M880 ZED B can have dual-axis joysticks with contactless sensing technology or a tri-axis joystick, featuring a rotating return-to-centre knob. The M880 ZED B also has a Dynamic Speed Control function with a '+/-' switch on the transmitter for instant movement speed adjustments when the system is in 'low-speed' mode.
Both models have new removable and rechargeable NiMH batteries that provide up to 22 hours of continuous operation.