Outdoor augmented reality solution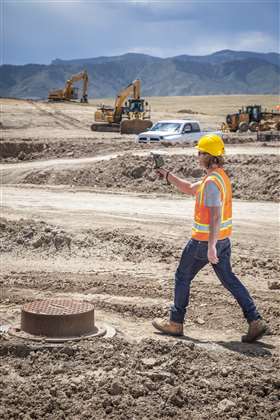 Trimble has announced that its SiteVision system, an outdoor augmented reality (AR) solution that enables users to visualise 2D and 3D data on virtually any project site with cellular or internet connectivity, is now available commercially.
Combining hardware and software in an integrated, lightweight handheld or pole-mounted solution, users can view 3D models and assets in a real-world environment at a 1:1 scale, from any angle or position.
SiteVision enables users to visualise digital models from a wide range of data collection, design and constructible modelling tools in open industry-standard formats.
Using Trimble Connect cloud-based hosting, SiteVision can access models from all stages of the lifecycle of infrastructure and buildings – from initial concepts of roads or buildings through the operations and maintenance phase of the assets – to increase collaboration, enhance work accuracy and improve operations and utilisation.
SiteVision is said to simplify complex concepts by allowing users to blend digital content with real-world environments. For example, city planners can visualise a new building design in the exact spot it is to be erected, a work crew could identify the exact position of underground cables or pipes before digging, or a construction supervisor could assess the progress of heavy equipment by visualising actual work performed against the site plan.
"It's easier to understand complex ideas when we can see them in a real-world context," said Mark Nichols, general manager at Trimble.
"SiteVision improves our understanding of projects and worksites with a handheld device that is accessible to a wide range of users. Augmented reality is now ready for everyday use in a wide range of applications."