Overhead job for Fricke-Schmidbauer Schwerlast
By Laura Hatton18 September 2014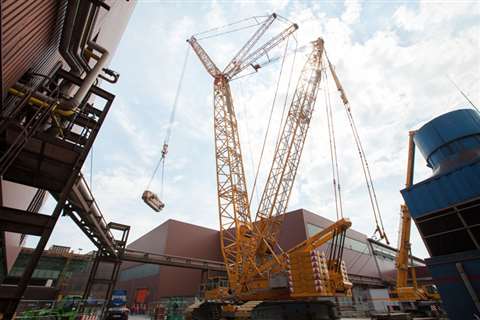 Crane service provider Fricke-Schmidbauer Schwerlast used a Terex CC 2400-1 lattice boom crawler crane to help move two overhead cranes at a steel mill in Germany.
The mill is owned by German steel producer Salzgitter Flachstahl. The task for the crawler included lifting down two 400 tonne capacity dismantled ladle handling overhead cranes from a height of 38 metres. The components weighed up to 105 tonnes each.
The working area for the 400 tonne capacity crawler was 15 by 22 metres, making the lifts a challenge. To make the lifts possible a train shed and several bumper blocks had to be removed first, a company spokesperson said. The space then had to be levelled out.
Dirk Zocher, project manager, said, "All of it – including the lifts – had to be done quickly. We didn't want to disrupt the mill's rail traffic, and its production operations, any longer than we had to."
The crawler was delivered to the site by 20 trucks. It was then assembled with the help of a Terex AC 100 all terrain crane. To carry out the work the CC 2400-1 was set up with an SWSL configuration with a 36 m boom and a 36 m fly jib. In addition, the crane was fitted with 160 tonnes of Superlift counterweight and 160 tonnes of ballast on the basic unit.
Once assembled, the crawler lifted the smaller sections of the overhead crane through a 9 x 9 m opening in the mill's roof. For the larger components the crawler lifted them onto the mill floor where they could be dismantled further and loaded onto trucks.
The overhead cranes were dismantled in 30 lifts over 15 days.