Palazzani for intricate art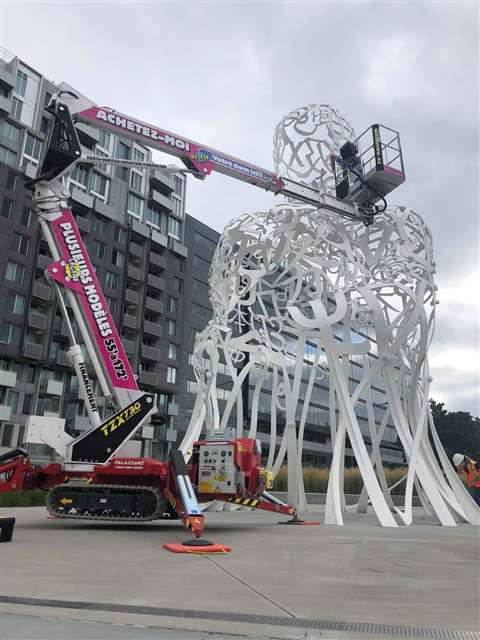 Bonaventure City Entrance, or l'Entrée de Ville Bonaventure, is one of downtown Montreal, Canada's major public spaces, including a series of pedestrian-friendly public spaces with over 300 trees, two works of public art, picnic tables, a playground for children, a fitness area, sun loungers, and ping pong tables.
'Source' is a 10m sculpture, erected in 2017 and situated at the end of the Bonaventure Expressway in the middle of a garden. The sculpture is of a crouching human form composed of an entanglement of letters and symbols from eight alphabets representing, in part, the complexity of humanity. The work also symbolises the unity of the communities of diverse origins that have contributed to the cultural richness of Montréal.
The particular shape and material used in the statue needs constant cleaning and periodic maintenance. This has been made possible with the use of a Palazzani TZX 225 spider lift (renamed TZX 730 for the North American market). The machine is able to easily move over the grass without damaging the garden thanks to its crawlers and very light operating weight of 2.5 tonnes. Its compact set-up of 2.84m x 3.5m allows it to be positioned in any position around the sculpture. The maximum working height of 22.5m, outreach of 10.25 m and articulated-double telescopic boom allow operators to reach the twisted elements of the sculpture.