Palazzani widens sales
By Euan Youdale13 March 2015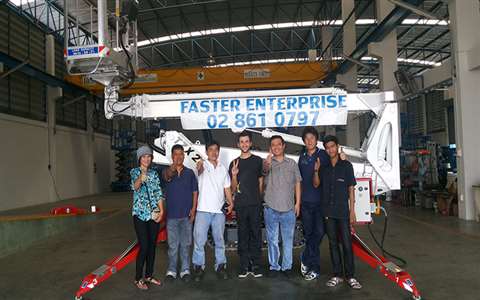 Italy-based Palazzani has increased its sales in the growing markets of Russia, Thailand and Qatar.
The company sold its first platform in Thailand, a TZX 225/C Bi‐energy, to its new distributor Faster Enterprise and co.
Faster Enterprise has been selling AWPs in Thailand since 2003. "In 2014 we were pleased to add Palazzani to our already well received Genie and Instant Upright brands for which we are distributor throughout Thailand," said Faster Enterprise CEO Mr Warapat.
Mr Warapat claims Faster Enterprise dominates sales of aerial work platforms in Thailand, with a 60% market share. He said the TZX 225/C would be ideally suited to work in Bangkok's Central World and Mega shopping malls. It will also be rented to the Siam project, consisting of apartments and retail outlets on the Chaophraya river.
Palazzani distributor for Russia Vertex supplied a Ragno TZX 170 spider to the Chaika medical and recreational health centre Chaika in the Sakhalin region.
The machine will be used for maintenance of engineering, communication and sports facilities within the complex, as well as for the set-up of events.
The hybrid model has two articulating and telescopic sections which provide horizontal outreach of 7.5 m. Basket size is 1.4 m x 0.7 m and has a load capacity of 200 kg.
A Ragno XTJ 48 has been used in luxury commercial building Eye of Qatar for general maintenance throughout and cleaning glass. It was supplied by local dealer Tawrid Qatar.
The Ragno XTJ 48/C has a working height of 48 m and a 19.5 m outreach. Its stowed dimensions are 8700 mm long, 1450 mm wide and 2480 mm high, allowing the platform to pass through doors and to be set up in difficult places, while its lightweight 13420 kg allows it to be used on delicate or elevated floors, such as in the Eye of Qatar.