Palfinger to launch P 750 at Bauma
By Lindsey Anderson25 January 2016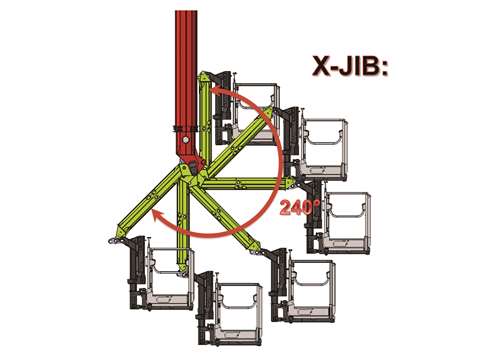 Palfinger will use Bauma to show a range of equipment, including its new P 750 aerial work platform.
The P 750 features a working height of 75 m (246 feet) and a lateral reach of 39 m (127 feet).
"This product completes the Jumbo Class NX (next generation)," the company said in a statement. "As usual in this class, the hydraulically operated X-jib between the upper boom and the basket gives the new P 750 unparalleled abilities and allows for precision working at the highest level."
It can be controlled individually for precise positioning and offers a work area of 240 degrees. This is supplemented by a basket rotation of 2 x 200 degrees.
"It is just as flexible as a wrist above an extended arm and allows exact orientation," the company said. "Thanks to this enormous flexibility and the sensitive proportional controller, the new P750, just like all Jumbo Class NX platforms, can now take on demanding tasks at a huge height as well – tasks in which conventional access platforms reach their limits due to their design."
The Jumbo Class NX also features storage space for tools and equipment beneath the aluminum cover.
For more on this unit, visit Palfginer's AWP stand at Bauma, April 11-17 in Munich.