Paramount Equipment moves to new HQ
By Lindsey Anderson29 October 2018
To operate more efficiently and better serve its customers, Paramount Equipment has relocated to a new headquarters in Roselle, NJ, just 15 minutes from Newark Airport.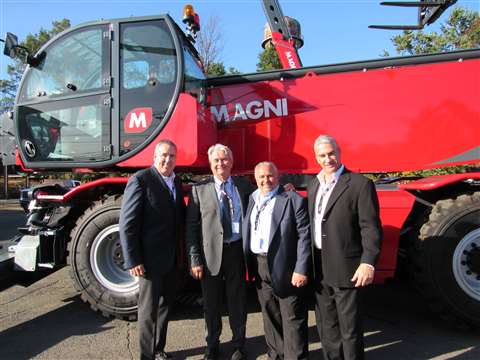 The Magni telehandler distributor held an open house event on Oct. 25 at its 4,500-square-foot HQ which sits on 1.5 acres.
"We needed more office space for staff and training," explained Gary Weisman, vice president of Paramount Equipment.
Weisman told ALH the company also wanted to have a ready-to-go inventory of telehandlers and attachments in its yard to provide customers with immediate availability for the machines and tools they need. The new facility also comes with additional service bays that allow servicing of booms when fully extended.
"We also had the desire to increase our parts inventory in order to provide parts that are needed immediately upon request," Weisman said. "[We can also now] efficiently store attachments and provide the parts with shelter."
Ricardo Magni, founder of Magni Telehandlers, was also on-hand at the event. ALH sat down with Mr. Magni to discuss the current North American telehandler market; the full interview will be in the November/December issue.