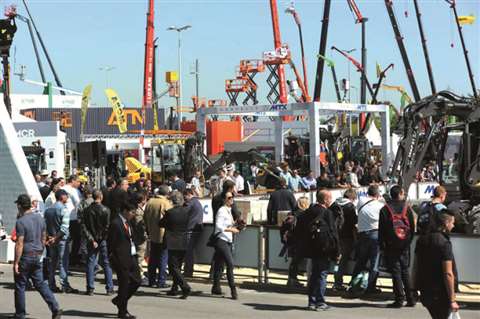 Intermat – Europe's major show for construction equipment this year – opened today at the Paris-Nord exhibition centre, France.
As in previous years, Intermat 2018 will comprise an indoor exhibition zone, an outdoor exhibition zone, and a demonstration zone.
World of Concrete Europe will also be part of Intermat, described by the organisers as an event within an event. First held as a show within Intermat in 2015, the 2018 version will once again combine an exhibition, educational programme and demonstration zone.
Intermat is organised this time into four hubs of specialist areas, and there are also theme villages concentrating on various elements of digitalisation. A series of talks and round tables on topical subjects in the industry are on the agenda of each theme zone.
The four hubs will be for Earthmoving & Demolition; Roads, Minerals & Foundations; Lifting, Handling & Transportation; and Buildings & Concrete.
The Earthmoving & Demolition hub will include machines and equipment for earthmoving and civil engineering, plus demolition, the environment and recycling. Accessories and components for these machines will be included, as well as new technologies.
The associated theme village will be in partnership with the French National Demolition Contractors Association (SNED), and will see firms concentrating on recycling, waste management, safety and dust suppression.
Equipment and materials for road infrastructure and maintenance are the focus of Roads, Minerals & Foundations, as well as machines and equipment for the minerals industries. Drilling, boring, special foundations and trenching machines will also be included.
New technologies, engineering and automatic systems will be featured, along with accessories and components for roads, minerals and foundations.
The Smart Road Village will go with this hub, with energy and engineering firms from the smart road sector, plus new technology for road infrastructure.
The Lifting, Handling & Transportation hub will be concentrating on those subjects, featuring machines, accessories, components and new technologies.
Concrete
Concrete in the Buildings & Concrete hub, and World of Concrete Europe, will involve facilities and machinery for concrete production and for pre-cast concrete. Materials for concrete, plus equipment and machinery for special and decorative concrete will feature, as will equipment for the delivery and laying of ready-mixed concrete. New technology, services and engineering for concrete will be there too.
When it comes to buildings, there will be accessories, components and parts for building work in this hub. Formwork, scaffolding and shoring will be included, along with site equipment and tooling, while materials for buildings and construction will feature too, along with new technology.
The Building Smart Village will see the BIM (building information modelling) Cabin, and it will look at digital design and robotic manufacturing, as well as digital tools on the worksite.
The final theme village is The Start-up Eurovia Village. Eurovia, a part of the French contracting giant Vinci, is a partner in the Start-up Village, which will have 13 selected start-up firms displaying their innovative solutions. These will include rental platforms, site supervision applications, equipment management and robotic solutions.
Intermat runs until April 28, and KHL's stand is 6C-001.