Partner Rentals opts for 'no frills' loaders
Partner Rentals, a US rental business based in Kingston, New York, has added SDLG L918F and L948 wheeled loaders to its fleet.
Hernan del Aguila, owner of Partner Rentals, said; "Wheel loaders are in constant demand in the Northeast throughout the year, whether it be for dirt removal, snow removal or other smaller jobs that require quick and efficient turnaround. We are pleased that SDLG is able to provide us with a no-frills, effective solution."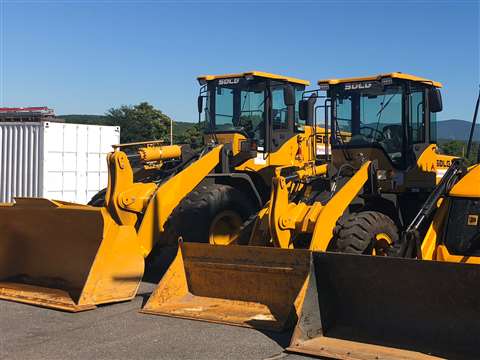 SDLG wheeled loaders in Partner Rentals' fleet.
Del Aguila said the machines "offer basic technology for simple jobs which is perfect for the rental industry. It is really easy for our customers to operate these wheel loaders.
"And because we aren't purchasing machines with a lot of features we don't need, we can get a good return on investment without having to run the machines 24/7."
Partner Rentals ordered the loaders from its local SDLG dealer, Vantage Equipment, based in Syracuse, New York. The L918F is a 6800kg loader with a 1.0m3 bucket, while the 14520kg L948F is a 2.3m3 bucket machine.