PartnerLift reveals new growth areas
By Euan Youdale25 March 2015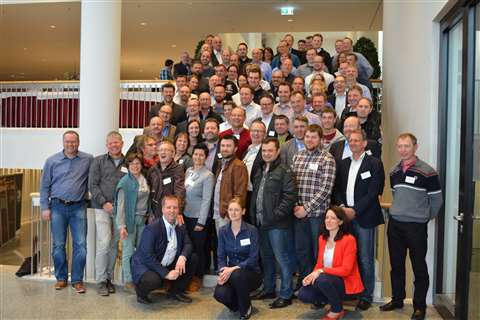 Association PartnerLift held its 11th annual conference in Germany during the weekend of 21 -22 March, with a record attendance of more than 100.
Previously PartnerLift has focused on small and midsize access equipment rental companies but has recently been expanding its interests in complementary construction equipment, cranes and forklifts.
The total rental fleet across its partners now stands at 15000 units, based at 145 depots. In addition, the group reported an annual record revenue for 2014 of more than €200 million.
Part of the growth was created by new members including forklift Partner company Ziegler Gabelstapler from Gersthofen near Augsburg and crane rental company Kuiphuis, based in the Netherlands, which also has a rental depot in Germany.
Kai Schliephake, PartnerLift´s managing director, also welcomed general construction equipment company HBH Baumaschinen, based in Lauda, Königshofen. Further new members are Spille, based in Essen, Oldenburger Land; Gossner Arbeitsbühnen in Freystadt; Induma Rent from Stuttgart; and SGL from Giesen near Hildesheim.
During the annual conference PartnerLift also began a regular meeting for crane rental companies, which set a range of guidelines for association members. The group's crane fleet size stands at 300 machines.
The new advisory board of PartnerLift association was elected at the meeting. The board said it supported Mr Schliephake's efforts to achieve preferable purchasing conditions group members and continue the development of future strategies.
Apart from talks about finance, risk management and insurance, the group was trained in improved sales techniques.
The association has a new website www.partnerlift.com