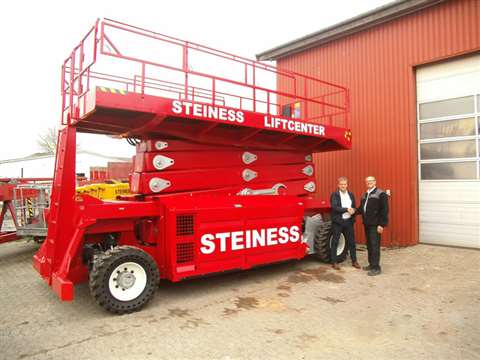 A 1000 kg capacity PB Lifttechnik scissor has rounded off a five-unit order from Steiness Liftcenter in Tåstrup, Denmark.
The PB S240-24D 4x4 scissor has a 24 m working height for large-scale facades, installations and assembling applications and has a lift capacity of 1000kg across the 7.98 m x 2.40 m platform. The unit is powered by a Deutz diesel engine, while the automatic levelling system secures the machine to 0° in a few seconds.
In addition to the PB S240-24D 4x4, Steiness ordered four further PB scissors from its PB Top series. The package includes three units from the narrow PB Top 12 range; two PB S171-12ES's and one PB S225-12ES with working heights of 17.1m and 22.5m, respectively, and a width of 1.22 m. Stability is provided by the patented PB supports system. An electro-hydraulic drive and a sensitive proportional control for driving, lifting and lowering are also standard features of these narrow scissors.
All the units have been delivered and received by Steiness CEO Poul Steiness, except for the PB S225-24DS 4x4, which will complete the order and is set to leave the factory at the beginning of 2016.
The PB S225-24DS 4x4 provides a 22.30 m working height and 750 kg lift capacity across the 7.20m x 2.36 m platform. Powerful by a Deutz diesel engine, it also features rough terrain tyres, differential lock, all-wheel drive and a fully automatic supports system.