Pedestal version of Demag 3800-1 crane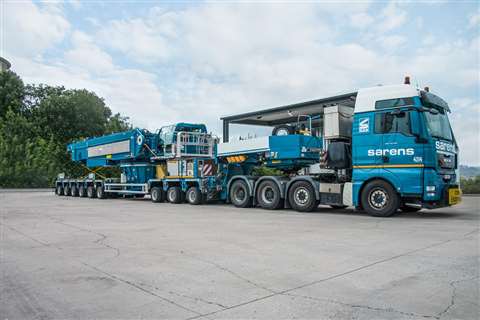 Versatility is a key feature of the new Demag PC 3800-1 pedestal crane. It is a version of the 650 tonne capacity CC 3800-1 lattice boom crawler.
Access can be gained to sites not previously possible with the crawler versions, the manufacturer said. In addition, the stronger load charts, especially on main boom only, mean less ground preparation and easier transport, Demag said.
The PC 3800-1 only needs four areas of ground to be prepared for the outrigger supports. Perfect levelling is unnecessary as the hydraulic cylinders on the outriggers can compensate for up to 2.1 degrees on a 12 x 12 metre outrigger base.
Applications include refineries, harbour quays and bridge installation from river banks.
Hydraulically extendable and foldable outriggers can be set at 12 x 12 m, 14 x 14 m in all configurations, including superlift. A 16 x 16 m outrigger setting without superlift "offers additional possibilities for long-reach lifts where the lifting capacity of a crawler crane would normally be limited. The PC 3800-1 also provides increased lifting performance in several configurations or requires less counterweight for the same or slightly higher lifting capacities. Less counterweight means fewer trucks, translating into significantly reduced transportation costs," Demag said.
An adapter has been developed to connect the carbody of the crane to self propelled modular transporter. SPMT is often found on jobs involving lifting bridges, gantries and wind turbine components. It can be used to relocate the crane on site partially rigged. On SPMT the crane can comply with a 12 tonnes per axle maximum load or have a cross-vehicle weight of less than 100 tonnes.
Other optional accessories are a quick connection to un-deck the superstructure from the chassis and different sizes of outrigger mats.
The PC 3800-1 can come as a complete crane or the carrier can be bought for retrofitting to the Demag CC 3800-1 crawler crane or its predecessor, the Terex Superlift 3800. These can be with or without superlift and it is compatible with wind turbine configurations and the Boom Booster capacity enhancement system, Demag said.