Peinemann fleet grows with 75m Ruthmann
By Euan Youdale10 July 2020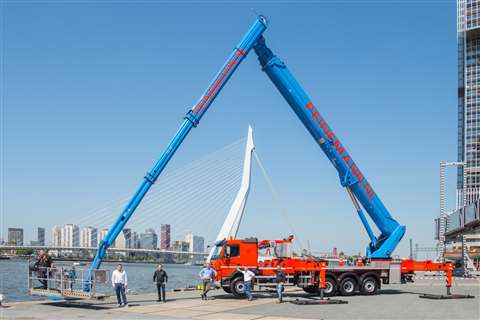 From left: Joop de Peinder, Peinemann Mobilift Groep; Alex van Noordennen, Peinemann Mobilift Groep; Stefan Kappenhagen, Ruthmann; Vincent Bessems, Volvo Truck Centre; Dik Advokaat, Peinemann Mobilift Groep; and Guido van Gestel, Kwak Hoogwerker Centrum.
The Peinemann Mobilift Group has added a 57m working height Ruthmann Steiger T 750 HF truck mount to its fleet.
The handover took place in Rotterdam, the Netherlands, via Ruthmann's sales and service partner Kwak Hoogwerker Centrum. The truck mounted platform has a 41m outreach and incorporates the highflexRüssel and highflexKorb. The highflexRüssel enables a 220° basket jib rotation angle and the highflexKorb a maximum basket rotation angle of 440°. The basket can also be telescoped up to 3.82m and offers a capacity of 600kg.
With the working platform upright, the truck mounted platform is ideal for 'under and up' applications and, with the Rüssel lowered, offers the complete range of 'up and over and back' movements, for example when working across a house.
Family-run Peinemann was founded in 1954 in Hoogvliet, Rotterdam and started renting forklift trucks and personnel in the port of Rotterdam and grew into a full service provider