Spanish demolition contractor Perfox is using six Brokk machines on a project to take down a structure in the capital Madrid's financial district and break up more than 1,000 cu m (35,000 cu ft) of concrete in the process.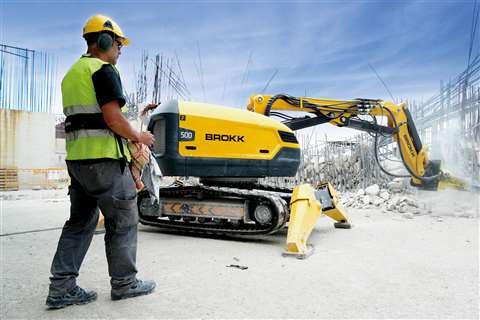 The demolition is part of the redevelopment of the city's Cuatro Torres (Four Towers) complex, which contains some of Europe's tallest skyscrapers. The construction of a fifth tower, called the Caleido, is scheduled to be finished in two years' time.
The remote controlled machines comprise a Brokk 500, two 180s, two 160s and a Brokk 90. They are being used along with two large excavators because the building has a number of limited access spaces.
"We are very happy with Brokk," said Perfox general director Ramiro Núñez.
"We have been working together for more than 12 years, we currently have eight Brokk machines, and we will be expanding our fleet soon.
"The Brokk 500 is a small monster, and it's working in a place where we simply could not bring any other excavator."