Pinden selects Kleemann to crush demolition waste
By Lindsay Gale23 August 2010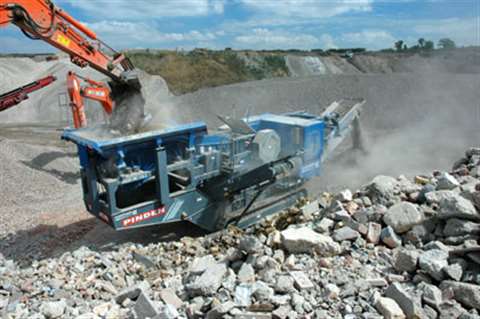 Kleemann UK has delivered a Mobicat MC 110Z tracked jaw crusher to Pinden Ltd, part of a group of companies that includes Syd Bishop and Sons (Demolition) Ltd.
The 45 tonne machine is now operating at the company's Pinden quarry in Dartford, UK - one of the largest processing sites for demolition waste in the south-east of the country.
According to Pinden director Steve Bishop: "We had the machine on demonstration first. We were convinced we can make considerable cost savings in fuel consumption over the lifetime of the machine.
"We also found output to be higher and the quality of product was better than previous machines. We normally would replace our crushers after three years; we expect to get five years from the Kleemann, with lower component replacement cost over that time."
Pinden produces 6F1/6F2 materials for roads and other applications in line with UK Waste and Resources Action Programme (WRAP) specifications. According to the company, it has to respond quickly to rising seasonal demand or peaks resulting from large individual projects.
According to Steve: "We learned from the demonstrator that the machine was capable of very high productivity. In fact, one shovel alone could not keep up with it. It means that when demand is high, we can step up the output as necessary.
"The machine is also good from a dust suppression point of view, which is important, since the site is regulated by the Environment Agency, being a receiver of hazardous waste.