Pioneers: rough terrain cranes
By Christian Shelton14 November 2017
Rough terrain cranes could be described as pioneers of the jobsite. They are often the first cranes there, equipped to travel over rough ground, leading the way for other types of cranes and equipment to follow. This pioneering spirit can also be seen in the approach rough terrain crane manufacturers take, breaking new territory with ever higher lifting capacities, longer booms, smaller dimensions, greater safety, and more advanced control systems. The boundaries are being redefined all the time.
The newest rough terrain crane from US manufacturer Link-Belt is the 75|RT, which it launched at ConExpo 2017. "We've heard great things from our customers since its debut several months ago," says Brian Smoot, Link-Belt rough terrain crane product manager. "NessCampbell in Portland, Oregon and Smith Erectors in Markle, Indiana, received our first field test units earlier this year. With a 70 tonne capacity (75 USt) at a radius of 2.5 metres, a 43.3 m (142 ft) full power boom, and a 24 volt electrical system, the 75|RT offers remarkable control, reliability, and capacity performance."
Smith Erectors' Link-Belt
75|RT hard at work
The 75|RT has an all-new operator cab, which Link-Belt says offers 20 percent greater visibility thanks to the use of extra-large windows. Visibility is further aided with a full LED lighting package, three on-board cameras, and the cab can tilt up to 20 degrees.
The 75|RT is one of Link-Belt's first models to have the company's new Pulse 2.0 RCL system – the most recent iteration of its crane control system. "The user-friendly, intuitive setup of this system and the fact that it's supported in-house (which is possible because we developed it) is a huge advantage. That's something we hear from customers all the time," Smoot adds. Pulse 2.0 provides operators with a 25.4 cm (10 ") colour touchscreen display with integrated rated capacity limiter (RCL) and 'extend' control module (ECM) data, as well as what Link-Belt describes as "advanced diagnostics and monitoring features". Wi-Fi enables remote updates and the system's telematics facilitates easy maintenance and service, the company says. Pulse 2.0 includes what Link-Belt calls Variable Confined Area Lifting Capacities (V-CALC). V-CALC allows the crane to work with a wide range of outrigger combinations and provides real-time 360-degree charts when jobsite conditions do not allow fully extended outriggers, Link-Belt says.
"Customer reception to the 75|RT has been very strong, including key feedback from our early field test units, and new machines are currently rolling off our assembly line," Smoot concludes.
US manufacturer Manitowoc's latest rough terrain models are the GRT8100 and GRT880 (the 'G' stands for Grove), with capacities of 100 and 80 US tons (90 tonnes and 80 tonnes) respectively. They share the same carrier structure and hydraulic components but have different booms. The GRT8100 has a five-section, 39.2 to 154.3 ft (12 to 47 m) Megaform boom with three modes of telescopic extension (which can achieve full extension in 160 seconds). The GRT880 has a four-section, 41.2 to 134.7 ft (12.6 to 41.1 m) full power boom. "The GRT8100 was designed to replace and improve upon the RT890 – a 90 US ton machine that we had in our fleet since 2003," explains Paul Cutchall, rough terrain product manager – sales and marketing support, "while the GRT880 replaced the 2008 RT880. We did this in response to customer feedback. It seems like longer booms have become much sought-after in most of the applications the RT890 is used in, so that's why we introduced it and increased the tonnage into the 100 US ton class with the GRT8100."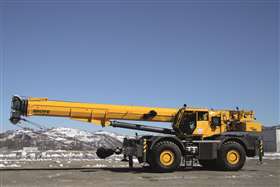 Full power booms
Manitowoc has used high strength steel in the construction of the booms and making them full power was a given, as Cutchall elaborates: "A full power boom is almost a critical need for a rough terrain crane up to a certain tonnage rating (100 US tons). For example, if the crane is being used by structural steel setters then they don't want to waste time repinning sections as they are paid by the number of pieces of steel they set a day." Manitowoc says the booms on its new RTs were tested to the equivalent of at least a decade's worth of lift cycles to ensure reliability and optimal performance.
Both rough terrain cranes are four-wheel drive, four-wheel steer, two-axle machines. "As they are often the first machines on site," says Cutchall, "they need these capabilities to work effectively on potentially difficult ground." They also have a short wheelbase with a compact tail-swing so they can get in tighter areas than a truck crane or an all terrain crane, says Manitowoc.
Common control system
The two RTs also share a common control system, which runs through Manitowoc's entire product line. This system incorporates the RCL load moment display and allows the operator to see boom angle, boom length, load radius, boom tip height, maximum permissible load, actual load, and there's warning of impending two-block conditions.
The work area definition system allows the operator to pre-select and define safe working areas. If the crane approaches the pre-set limits, audio-visual warnings alert the operator. "Essentially it gives the operator data on how to set the machine up and feedback about what the machine is doing," says Cutchall. "It is a 24 v electrical system (traditionally we have always had 12 v systems for North America) and it's full CanBus to improve serviceability. This is complemented by the system's easy to use software with its troubleshooting functionality. We are getting good feedback regarding using it."
Regarding future plans in the rough terrain sector, Manitowoc is planning to launch a 55 US ton capacity model, the GRT655, in the first quarter of 2018. "We will offer it with two boom lengths," reveals Cutchall. "We'll have an L version, which will be a long boom (141 ft / 43 m) and the other will be 114 ft (35 m). We should be shipping these in the first quarter of 2018." The GRT655 will have the same common control system and a tilt cab – which Manitowoc claims no one else has ever offered in this class of machine. "It will also use smart outrigger length sensors for monitoring – a requirement here in North America," concludes Cutchall.
Terex's latest models are the RT 90 and RT 100US which it introduced at Bauma 2016 and ConExpo 2017 respectively. The RT 90 is designed to EN 13000 standards while the RT 100US is designed to B30.5 standards. The RT 90 has a lifting capacity of 86 tonnes (95 US tons) while the RT 100US has a lifting capacity of 90 tonnes (100 US tons). The machines use a five-section, fully hydraulic boom that extends 47 m (154 ft). A 17 m (56 ft) bi-fold jib further enhances the cranes' reach and versatility. The boom has three different modes and a two-part folding jib.
The RT 100US from Terex Cranes has a five-section, fully hydraulic boom that extends 47 m (154 ft)
Both RTs have Terex's Demag IC-1 control system with integrated diagnostics. Available in 17 languages, the Demag IC-1 control system can be monitored on a colour touch screen and is intuitive to use, says Terex, enabling the fine-tuning of controls. "We've already had great feedback from operators in the field regarding the smooth controls," says Suresh Natarajan, director, rough terrain product management at Terex.
The new RTs have a new ergonomic cab design with 18-degree tilt functionality, and a flat deck for enhanced safety and access. The cranes have a narrow width of just 3 m (9.8 ft) and a removable counterweight which allows them to be trailered without weight and width restrictions in most situations, says Terex. "The RT 90 and RT 100US have been designed to be robust on the job for a strong lifting platform yet remain easy to transport," confirms Natarajan. "We have used high strength steel to achieve high lifting capacities whilst also reducing weight."
The RT 90 and RT 100US, offer four steering modes, including two-wheel, four-wheel, crab and independent rear axle steering for easy positioning and versatility on the jobsite. Two engines are available: Tier III and Tier IV final. "The first units have been delivered in Italy, the Middle East and the USA for field test observations," reveals Natarajan. "We are actively working on the next models based on this design and philosophy."
XCMG reports positive feedback regarding the performance of its five rough terrain cranes that are being used for ship maintenance work at Freeport on Grand Bahama Island in the Caribbean.
Two 25 tonne capacity RT25 and three 70 tonne capacity RT70U models were delivered on 1 March 2017 and have been used for over ten hours a day, every day, according to XCMG. It says the crane operators are happy with the comfort the RTs offered, while the port's project manager Felix Fang is impressed with the performance and reliability of the cranes, having had the chance to try them out.
Full extension and capacity at long reach are requirements for ship maintenance work at the port. Maximum height on the 25 tonner is 33.15 metres while the 70 tonner reaches 60.7 m. The cranes are designed to have an energy-saving hydraulic system for maximum power delivery which also reduces fuel consumption by 15 percent, XCMG said.