Plain sailing for RRS super yacht mast lift
By Ian Vallely08 August 2016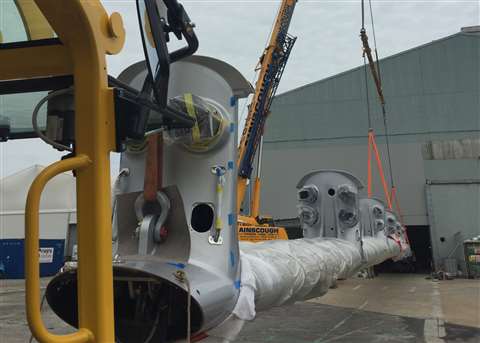 Rapid Response Solutions (RRS) oversaw lifting and rigging operations as three bespoke carbon composite masts for a luxury super yacht completed a year-long manufacturing process at Trafalgar Wharf in Portsmouth, UK.
The final stage was to lift the masts off supports, out of the building and onto land transportation for the first leg of their journey to an undisclosed overseas customer. Each mast travelled separately to meet the install schedule. Neither party would reveal the exact dimensions of the masts but each was different, believed to be in the region of 60m in length, weighing approximately 30 tonnes.
Paul Barber, managing director at RRS, said: "The main complication was ensuring loads were not transferred in the wrong places or directions. Although the masts are extremely strong when stood vertically in the yacht, they aren't as strong laid over. Also, the paint coating is extremely high quality and couldn't be marked…
"Because of the value of the loads the insurers wanted to be involved in the build-up of the lift plan to ensure all eventualities had been thought of and calculated. Using our KranXpert lift plan software we were able to create a 3D plan and carry out a virtual lift in advance to prove the cranes' suitability."
A 150t Liebherr, model LTM1150-6.1, from Ainscough lifted the first mast, while Marsh Plant supplied a 130t Liebherr, model LTM1130-5.1, with full ballast to lift the second. The third and final lift is scheduled for mid-August, again with the LTM1130-5.1.
The first step in the load out process was to lift the top of each mast with an 18t mini-crane from Valla and tow it out of the building using trollies; the Valla took around 7t of load. The crane was waiting outside to load the masts onto transportation.
Below the hook, a Modulift MOD110 spreader beam was used at 14m. The beam had spare capacity but the size was needed to gain the spread required between the lift points, Barber explained. Two 25t Straightpoint Loadlink plus load cells were used under the beam, connected to Straightpoint data logging software to monitor the loads being passed between the lifting points.