Plant Hire UK in €21 million JCB order
By Helen Wright06 May 2016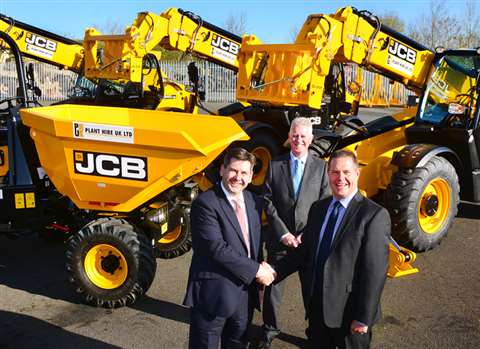 UK rental company Plant Hire UK has invested £16.5 million (€21 million) in new equipment from manufacturer JCB, including 300 Loadall telescopic handlers.
The order consists of almost 400 machines in total, and also includes a fleet of site dumpers. It is scheduled for delivery throughout 2016, supplied through dealer Gunn JCB.
The JCB Tier 4 Final-compliant Loadalls range from the 4m 520-40 model through to the 20m lift height 540-200 model, while the site dumpers range from the 1 tonne 1THT through to the 9 tonne 9TFT model.
The new JCB Loadalls also come with immobilisers and JCB LiveLink fitted as standard – a telematics system which provides customers with fleet management data.
The fleet management tool can improve machine utilisation, cut running costs, increase productivity and manage servicing.
Through integration with the immobiliser, machine tracking, geo-fencing and curfew options, JCB LiveLink also provides a deterrent to thieves - making machines harder to steal and simpler to recover if they are stolen.
Plant Hire UK founder Graham Jones said, "We aim to have one of the youngest fleets of machines in the industry and this latest investment will put Plant Hire UK at the forefront of the sector. We aim to be the best in the industry too and that means having the best people, the best customer service and the best machines."