Plant Hire UK prepares for 2018 with JCB
By Euan Youdale28 November 2017
One of the UK's leading national plant hire companies has placed its biggest ever order for JCB equipment worth £25 million as it gears up for growth in the New Year.
Haydock-based Plant Hire UK (PHUK) is buying 450 new JCB machines in the massive deal. The bulk of the order is for 350 Loadall telescopic handlers – a machine which is celebrating 40 years in production at JCB's World HQ in Staffordshire. The deal also includes site dumpers, mini excavators and tandem rollers. The machines will be supplied by JCB dealer Gunn JCB on a national basis.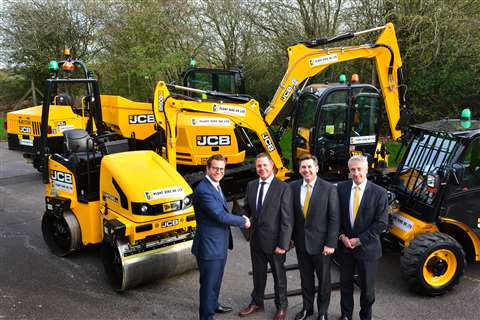 The investment comes as the company's brand new headquarters in Haydock becomes fully operational. The latest deal means Plant Hire UK's fleet continues to be exclusively JCB and comprises the company's full range of equipment.
Plant Hire UK was founded by Graham Jones and finance director Wayne Illidge. Jones said, "We are extremely confident about the future of the equipment hire business in the UK which is why we have placed our biggest order ever for JCB machines. 2018 is just around the corner and we want to ensure we are well placed to react to the national market's needs next year and that includes having one of the youngest and most innovative machinery fleets around."
The order includes JCB's smallest telehander, the 1.5 tonne to 4m 516-40 model, through to the flagship 20m lift height 540-200 model. The site dumpers ordered range from the 1 tonne through to the 9 tonne models and mini excavators from 1.5 tonnes to 8 tonnes.