Plantforce adds 'super safe' Hyundai excavator
By Leila Steed28 June 2019
Plantforce Rentals has taken delivery of a new Hyundai HW160 wheeled loader fitted with enhanced safety features.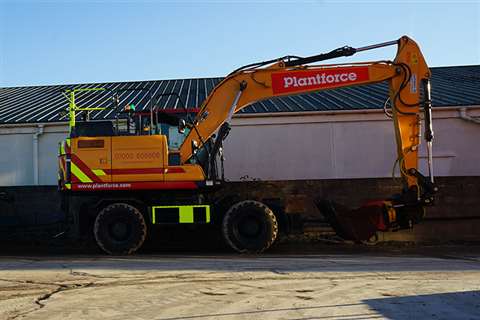 The company commissioned the 'super-safe' machine after attending a conference with representatives from Highway England and several suppliers to UK tier one contractors.
Dale Hawkins, Plantforce Marketing Manager, said, "With safety and efficiency an important key factor on all major contracts around the UK, we have developed this Hyundai machine, with 'lone man' working in mind. It offers a solution for operatives working in the highways and civil sectors – chiefly the night workers."
The company's HW160 includes an Encgon tiltrotator system fitted with grab and buckets, and a state-of-the-art twin axle tipping trailer.
Other key features are its Prolec height and slew restriction system. Its combined weighing system and cut-out system prevents the machine from toppling over if overloaded. The Prolec system also restricts the machine from moving into live carriageways or overhead power lines.
The machine also benefits from a seven light FHOSS Halo Exclusion. It produces focused beams of red light that identify an exclusion zone, making workers aware not to enter the danger zone.
An inbuilt Site Zone proximity warning system alerts the operator if any personnel enter the working radius.
Hawkins added, "The Hyundai machine is highly visible, so any approaching traffic will clearly see the machine, further reducing risk. It also eliminates service strikes and overloading the machine – but most importantly collision with other site personnel."