Platform Basket looks to expand product range
By Lindsey Anderson15 September 2011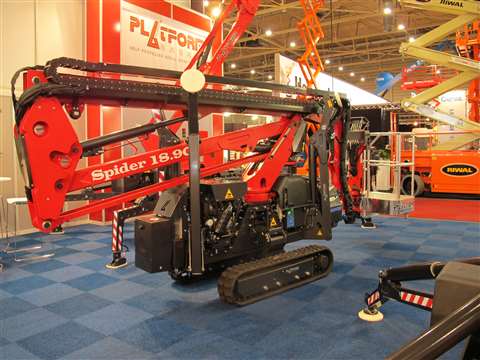 Platform Basket is looking to expand its product range and improve current models, the company told Access International on the second day of APEX.
Showcasing the 13.65/13.80, the company said they look to grow their offerings in the very near future into the 40-45 m range with a focus on 27 m and 34 m tracked/atrium lifts which could pop up at SAIE. Further details were not disclosed.
The 13.65/13.80 is the company's smallest tracked/atrium lift, featuring a working height of 13.4 m and maximum side reach of 7 m and 7.7 m, respectively. Maximum capacity in the basket is 200 kg and the units weigh 1580 kg/1450 kg.
The units, which were first shown at SAIE last year, have an extendable undercarriage, remote control for tracking, compact footprint, double driving speed and electronic levelling indicator. Extendable tracks work on a hydraulic system that can extend the unit's width from 78 cm to 98 cm and features non-marking tracks suitable for indoor use.
The company also had its 18.90 tracked/atrium lift on display with a new Kubota engine that reduces pollution and noise by about 6-7 decibels. Platform Basket said the unit will also feature self-stabilization outriggers and a new electronic control board. It will be in production and ready for delivery by November.