Platform Basket sells four 48 m booms to China
By Euan Youdale20 August 2013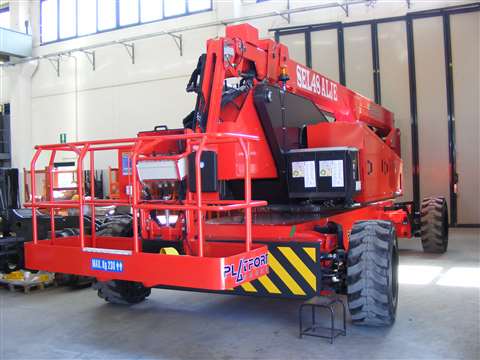 Italy-based Platform Basket has sold four of its 48 m booms to China.
The SEL48 ALJE was designed for Far Eastern markets seven years ago, and so far 10 have been sold, including the most recent order. Three of the four machines have now been delivered.
Carlo Molesini, Platform basket managing and sales director, told AI the machines were sold through its Hong Kong-based division Platform Basket Far East, and would be used for cleaning large buildings in China. But he could not say which company bought the units.
The 48 m working height model has a maximum outreach of 25 m and basket capacity of 230 kg, with 90 + 90 degree rotation. The maximum up and over height is 23.5 m, and there is a 1.8 m jib. The total weight of the machine is 29 tonnes. Turning radius with fully extended axles is 10.2 m.